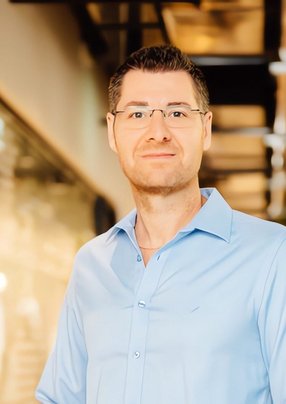 Interview with: Erez Nissim
Chief Technology Officer at Novidea
InsurTech Digital delves into the mind of Novidea's Chief Technology Officer, Erez Nissim, tracing his career and life inspirations
Describe your role and your background. How did you get to this point in your career?
I joined Novidea several months ago as Novidea's Chief Technology Officer leading the R&D and product departments. Formerly, I held executive roles in large-scale global technology companies, leading R&D, IT, product, and engineering groups.
Most recently, I served as EVP Head of Casual Gaming for the US$7bn gaming company, Playtika. Previously, I held senior positions at other successful industry leaders such as NICE surveillance, Amdocs, Retalix, and head of the innovation group at SAP.
I am experienced in leading complex software, development projects in global companies from inception, market analysis and requirements definition, through technical system design and product development.
Actually, I got into technology in kind of a funny way. When I finished my army service, my grandfather asked what I was going to study. I had no idea. He said that I should pick something that would be lucrative right off the bat.
So, I went to Tel Aviv University to speak to one of the professors from the Computer Science department and left after four hours completely in love with the space.
Who was your childhood hero and why?
Rambo – as your typical Israeli kid growing up, war heroes were popular – but only those who show dignity and respect to others around them.
Can you explain to us what Novidea is in 25 words or less?
Novidea is the creator of the industry's first cloud-based, data-driven insurance management platform for brokers, agents, MGAs/MGUs, specialty insurers, and wholesalers.
What, or who, inspires you in insurance/insurtech today?
Novidea's CEO (Roi Agababa) inspired me to enter the insurtech space – he sent me business articles with plenty of impressive data and showed me the potential to make a significant impact in the insurance industry which was slow to ride the innovative wave. That really excited me.
If there's one piece of technology you couldn't live without (besides your mobile phone), what would it be?
Spotify – I'm a music junky. It's an opportunity (and a necessity) and provides a way to relax and de-stress. I can't imagine living without music.
Do you have any insights into how much time or money is wasted when businesses don't modernise quickly enough?
A client of ours recently built their own algorithm to measure the ROI of digitising their agency, and more specifically, automating certain processes. They discovered that for every process that wasn't automated and required an employee to intervene, it was costing them US$1.3m per minute.
In this highly competitive landscape, no broker or agent can afford to lose that kind of money. The goal is to maximise efficiencies and streamline every workflow and aspect of your operations. Unfortunately, those who are too slow to adapt will not be able to compete.
How do you assess the rate of digitisation in the insurance market? It's usually accused of dragging its feet too much – is that fair?
It's fair to say that the industry as a whole has been notoriously slow to adapt when it comes to technology. However, based on what we have seen, that is changing, and we have the pandemic to thank for that.
The sudden need to support agents and brokers as they shifted to remote work forced everyone in the insurance space to accelerate when it comes to digital.
It moved quickly from a far-off goal that was regarded as a competitive edge to a top priority to keep businesses functional.
Some estimates suggest that in 2020, the insurance industry advanced the equivalent of seven years in its digital transformation initiatives.
The pandemic was a moment for the industry to rise to the occasion, and for the most part, they did so. But there's still a lot of work to be done.
What is Novidea currently working on – what is the strategic focus at the minute?
We recently announced a US$50m round of Series C funding led by Battery Ventures, a new partner for us.
With that funding, we have been focused on the further development of our platform, including new enhancements that better support low-code/no-code software and help our customers expand into new lines of business.
We're also augmenting our customer success infrastructure and expanding our offices across all target markets in the US, UK, EMEA, and APAC.
What are your ambitions for growth?
I feel like I'm in the exact role I want to be. I love technology. It's challenging. It fills me with the ability to influence and make a difference. The combination between technology and business is very fulfilling and is what inspires me daily.
What do you get up to away from work?
I love keeping busy and would even call myself a workaholic. But when I'm not working, I listen to "geeky" technology podcasts. I also love going to the beach and listening to music.
I love doing things with my kids (not watching tv!) – even playing Monopoly and other board games.
Is there a personal achievement from the last few years you're particularly proud of? And what is the standout moment of your career to date?
In my previous job at Playtika, the CEO asked me to take over the strategic development of one of the medium-revenue games, and I was able to turn it into the second most profitable and then the most profitable game in the company.
Even once I left, the game was so stable and strong that it continued to grow and succeed. That is an amazing achievement for me to see that the game tripled in revenue in less than two years.
What was the last good book you read and when was it?
An Israeli children's book called Dani Din which I read to my daughter – at least a decade ago. Please don't judge me!
What's next for you?
I look forward to making a difference in the insurtech globally so that Novidea becomes known by everyone everywhere!
Concentrating on continuing to reduce future morbidity and mortality, and really giving people healthy life years, remains our key strategic focus.