Zimbabwe insurtech CASSAVA announce 15% revenue growth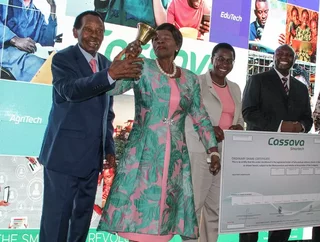 Africa's emerging markets show promise as CASSAVA Smartech Group reveals its latest financial reports detailing 15% revenue growth on 2020
CASSAVA Insurance, the Zimbabwe-based insurtech that is part of the CASSAVA Smartech group, has announced a 15% increase in its annual revenue.
The insurance business revenue contributions to the group recorded the growth amid plans to pin future growth on the technology driven platforms.
The upsurge in interest suggests insurtech is gaining ground in the region, and the segment is experiencing rapid growth. 
Insurtech growth in Africa
In 2021 so far, there have been 57 insurtech startups launching on the African continent, the largest concentration of which is South Africa with 30, followed by Kenya, with 15 and Nigeria with four. 
Investment in the region is also growing. In June, the South African-based short-term insurance advice provider Ctrl secured  US$2.3m in investment funding from business funder Naspers Foundry.
Zimbabwe saw one fintech startup launch earlier this year, but the growth shown by CASSAVA Smartech, which was founded in 2018, is indicative of regional potential and change. 
The news comes as a welcomed change of fortunes following the massive losses CASSAVA Smartech recorded in January of 2020 that saw a forex exchange loss of US$506mn for the half-year ended 31 August 2019 and cited the depreciation of the local Zimbabwe currency as the primary cause. 
Expansion plans
Speaking about the company's most recent financial report, CSZL board chairperson, Sherree  Shereni, said the Insurtech segment revenue contributions recorded significant growth.
She explained, "The year saw a growth in the Insurtech contribution from 9% recorded in the past financial year to 15 % largely attributed to the growth of the short-term non-motor insurance business.
"The Vaya Technologies business also uplifted its performance contribution from 2% to 7% in 2021. The group's revenue diversification strategy is paying off, as evidenced by the exponential revenue growth in the Insurtech and the Vaya Technologies business units."
Shereni said the technology-driven platforms and processes now available to insurtechs offer significant advantages and continue to drive innovations and deploy them where the need is greatest.
She added that the group has continued to take advantage of the accelerated digital transformation driven by the pandemic to innovate new products and services. "We, therefore, continue to leverage our robust business model to innovate around on-demand technology platforms, creating customer convenience and maximising value for our shareholders."
Main image credit: CASSAVA Smartech Zimbabwe IPO listing