The UK Has the Most Insurtech Firms in Europe: An IFZ Study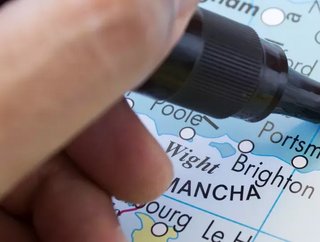 The Institute for Financial Services Zug (IFZ) has released a study finding the UK has the most insurtechs in Europe, with a core focus on infrastructure
The United Kingdom of Great Britain and Northern Ireland (UK) is home to the most Insurtech companies in Europe, according to a recent study by the Institute for Financial Services Zug (IFZ).
The new report by IFZ found that there are 136 Insurtechs headquartered in the country. This figure makes up 27% of all European companies operating under this sector. Second place went to Germany with 93 firms, and France was placed third with 61 firms.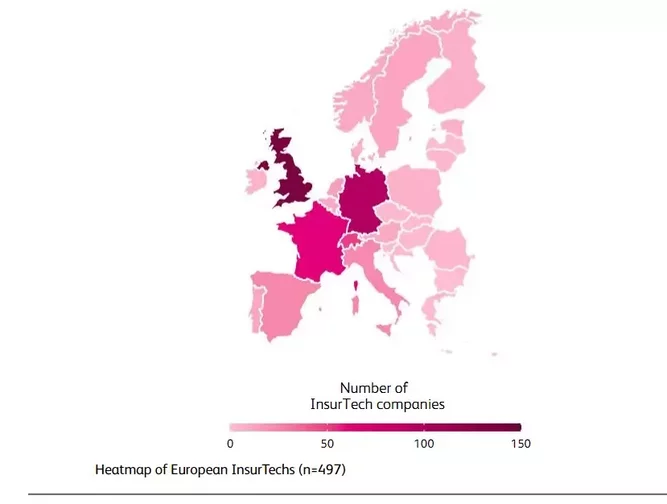 Insurtech in the UK, based on the area of specialisation
The study found that around 83% of UK insurtech companies focus on infrastructure-based technologies such as process digitisation, automation, and robotisation.
The second most common category in the UK was product development, pricing and underwriting. According to the research, only 5 of the 136 insurtech firms in the jurisdiction focus on distributed ledger technology and the Internet of Things.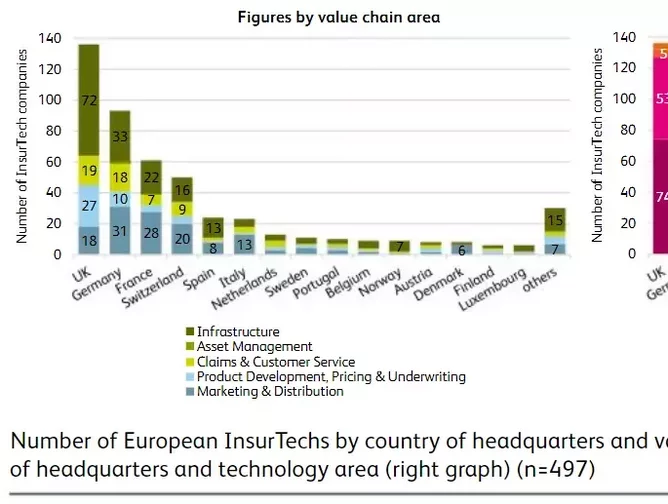 Deeper analysis of the technological areas of focus
Out of the 497 in total across Europe, most (around 30%) are focused primarily on marketing and distribution, which often involves using technology for communications and handling personal data.
Some 74 insurtechs (around 15%) are concentrated in the claims and customer service area, which is used to create more direct and personalised relationships with policyholders.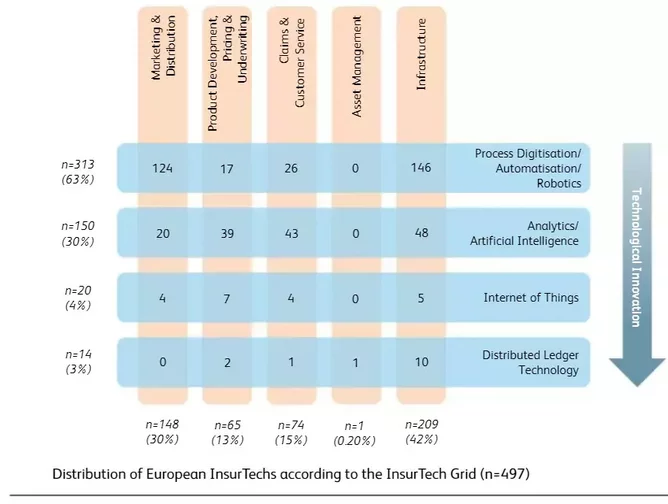 The UK has a broader range of potential sources for venture capital
The UK has a substantial lead over its European counterparts when it comes to technology-focused insurtech firms. This is likely because London is one of the leading financial centres in the world and is home to many large insurance companies. The city also has a robust ecosystem of investors, accelerators, and incubators that support Insurtech startups.
As a result, UK insurtechs have access to more venture capital than their European counterparts. According to data by Statista, the UK has a leading position in European venture capital investments. In 2021, €34.9bn EUR of financing commitments across all sectors in Europe took place in the UK, and Germany came in second, with €17.2bn EUR.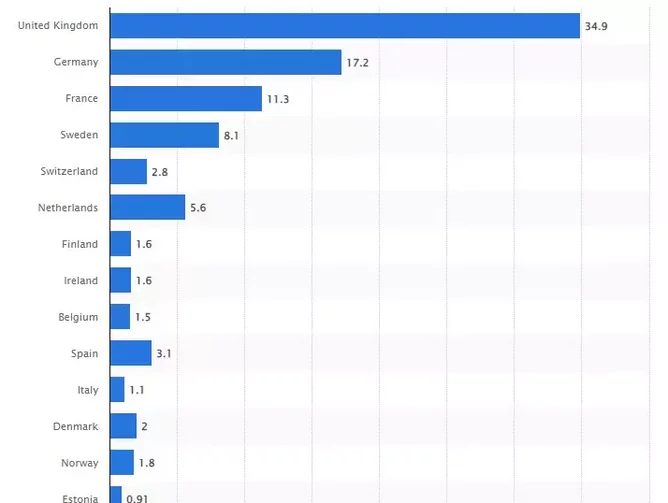 Insurtech gives policyholders an edge
According to another recent study by commercial insurance company Foresight, next-generation insurtechs give power back to the customer. The report found that, as a result of insurtech, policyholders are now able to access better deals and faster claims processes. They can also manage their policies online, which gives them more control over their finances.
"Insurtechs have a unique ability to communicate about insurance to venture capitalists, business owners, Millennials, and Gen Z—across virtually every demographic—in modern and familiar ways that eliminate complexities and redundancies, and give more power to the purchaser," noted the study by Foresight.
The bottom line
In conclusion, the UK is the leading place for Insurtech companies in Europe due to its strong financial sector and supportive ecosystem. These companies are changing the insurance landscape by giving more power back to the customer, and this change, in turn, is likely to lead to a better experience for policyholders.