Trov forges new partnership with UFODrive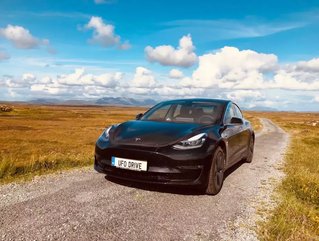 US insurtech Trov collaborates with UK electric car rental specialist...
The San Francisco-based insurtech, Trov, has announced its new partnership with UFODrive, the British electric car rental specialists.
The insurtech, which was founded in 2012 by tech entrepreneur Scott Walchek, has a strong sector presence in the US. The company hit the headlines last year following its collaboration with Seguros Sura, the Latin American insurer, to bring on-demand products to the Brazilian marketplace.
Currently, Trov claims to be a global leader in insurtech platforms that enable financial institutions and insurance incumbents to swiftly launch modern solutions for homeowners, renters, drivers, and small businesses. The company has also raised more than US$114m from VC's and strategic partners since its launch.
Trov said the partnership with Trov signifies a 'major milestone' for the company, as it sets the stage for expansion into the UK as well as positioning it as a major partner for mobility enterprises seeking bespoke solutions for their services. 
The move into the electric car market has been driven by extreme shifts in UK transportation legislation. By 2030, the UK and several other counties will deliver on their commitment to ban sales of new diesel and petrol cars. The impact of this can already be seen in the soaring sales of electric vehicles right across the Mobility sector.
UFODrive ecosystem
Launched in 2018, UFODRIVE has an entirely electric (primarily Tesla) fleet, along with an industry-first carbon credits-based loyalty programme. The company has already delivered Co2 savings of over 1 million kgs. 
It aims to transform the cart rental market by providing 100% digital, electric and easy customer solutions. The full booking and rental process are managed via the UFODRIVE app allowing customers to reserve and drive, efficiently, autonomously, and without the need to queue at a desk. 
UFODrive already operates from 17 locations across eight countries, with feedback from customers earning the enterprise the highest Net Promoter Score of car rental anywhere. UFODrive also grew by 108% during 2020, proving it operates with resilience. 
Trove reported, "UFODRIVE is on a mission to provide the world's fastest and easiest car rental experience while reducing paperwork, queues, fuel, emissions and hassle for its users. Their team will be tapping into both components of our Mobility Insurance Platform, including both insurance coverage and risk operations technology, to drive meaningful efficiencies for their growing business in the United Kingdom."
Trov added that with its technology the UFODRIVE team will be able to monitor, manage and mitigate their insured and uninsured risks more effectively – ultimately shifting more resources toward the expansion of their business. 
"We're proud to support the team at UFODRIVE as they offer British consumers a unique sustainable mobility option – helping the country as a whole get closer to its ambitious carbon emissions goals for 2030," an official statement said.