Startup spotlight: Breach insures the thriving crypto market
Boston-based insurtech Breach is introducing products and services specifically targeting the burgeoning cryptocurrency investment market
Boston-based insurtech Breach is introducing products and services specifically targeting the burgeoning cryptocurrency investment market.
Founded in 2018, the company recently secured US$2.5m in an oversubscribed seed funding round. It was co-led by Global Founders Capital and crypto expert Ted Rogers.
Customers interested in using the service can currently join a waitlist. The company will offer insurance covering "loss of crypto assets due to cryptocurrency exchange hacks," a valuable defence against one of the industry's most persistent dangers; Breach cites the 50+ exchange hacks, $2bn of hacked assets, and $30bn lost or inaccessible funds in recent times.
Also included are:
Protection against cyber theft

Multi-exchange and multi-coin support

Simplified crypto ownership that negates the need for multiple wallets, passwords, and hardware
Breach's website intimates that coverage will be offered on Bitcoin, Ethereum, Ripple, EOS, and Bitcoin Cash initially, with others still to be added. Users can interact with their coverage through the company's dashboard: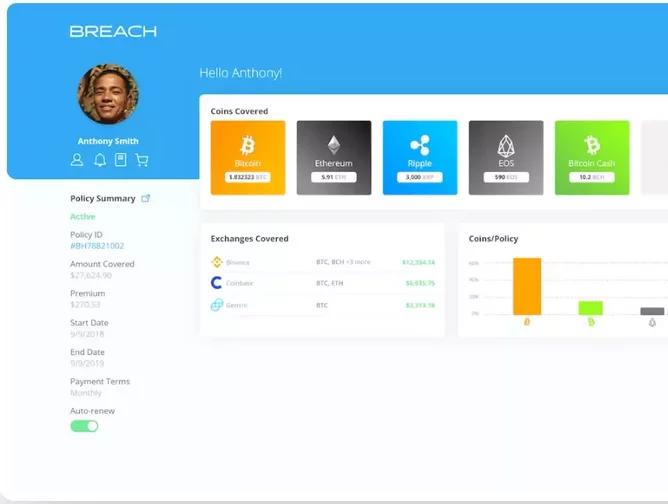 "Many insurers believe that crypto risks usually have an uninsured effect," said Eyhab Aejaz, CEO and Co-Founder. 
"Breach was created to leverage our unique expertise in both crypto and insurance industries to be a critical advocate for the crypto market that desperately craves regulated insurance solutions. We will be using this fresh round of funding to grow our team and to further develop the Breach platform and developer tools."
Recent estimates place the digital currency market at a value of $1.72trn and, while price volatility is a well-known aspect of the industry, the long-term appeal of these assets appears to be secure.
As such, the need for insurance to embrace a new set of customers is highly desirable for both parties. In Rogers' view, Breach's innovative approach is filling a valuable gap in the market:
"Existing insurance policies often neglect to cover areas of real risk and serve mainly as marketing tools for crypto companies. Eyhab and the Breach team have the insurance background and technical expertise to finally bring effective, scalable coverage to individuals and businesses in our industry.
Image of dashboard sourced from Breach's website