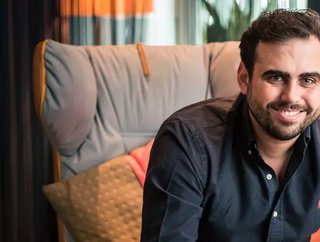 As CEO and co-founder of Europe's most successful insurtech, Wefox's Julian Teicke is proving to be an unstoppable force in the sector
One of the youngest CEOs in the business, Julian Teicke is the man behind wefox, Europe's most successful insurtech company to date.
Born in 1986, the 35-year-old German entrepreneur has always had an innovative and ambitious streak. Teicke grew up in Berlin and went to the John F Kennedy School, a non-fee paying primary and secondary school offering integrated, bilingual education for both German and American children.
A born entreprenuer
He then chose to study business in Switzerland, where he completed a degree in business at the University of St Gallen. After graduation, Teicke swiftly entered the business world, helping to launch the UK division of Chocri, a chocolate company based in Berlin with a website where users can design and order customised chocolate bars and gifts.
He later joined Groupon in the UK, and then in 2011, co-founded DeinDeal, an ecommerce portal that took off in Switzerland. Teicke served as DeinDeal's COO until it was sold in 2015 for a sum that has never been disclosed. 
Having cut his entrepreneurial teeth on Chocri, Groupon, and DeinDeal, Teicke became confident and wealthy enough to start another new business. In October 2014, he launched EMPAUA. The company has offices in Berlin, London, Madrid, Barcelona, and Zurich, and offers services to start-up companies and businesses.
High-level investors recognised Teicke's potential as a smart operator, and soon, Salesforce became a leading contributor and partner in EMPAUA. 
The birth of wefox
Not content with one successful startup, less than a month after launching EMPAUA, Teicke founded FinanceFox in November 2014. At its embryonic stage, the company was an app that enabled customers to store all their insurance details in one place and adjust them as required.
The idea was a jointly conceived plan between Teicke and his insurance expert father who had worked in the industry for over 30 years and was familiar with the problems encountered by brokers and customers alike.

 

FinanceFox proved so successful, that it wasn't long before Teicke obtained permission to sell homegrown insurance products through the platform. The brand was transformed and became known as wefox in 2015. 

 

From that moment on, the insurtech has moved from strength to strength with Teicke at the helm. In 2015, the company received capital investments of $5.5mn from SalesForce. By December 2019, wefox had pulled ahead of the crowds and attracted the biggest Series A funding round of any insurtech in Europe, by raising US$110mn. 

 

But that record was recently smashed when wefox raised an astonishing $650mn - the largest funding round for an insurtech anywhere, raising its market valuation to a massive $3bn just five years after its launch. 
Generous boss
Perhaps one of the reasons why Teicke is so successful, is that he is a fair player in the cut-throat world of finance and insurance, making him highly respected among his peers. Just after the record funding round, Teicke recognised the work of every single one of his employees by making them shareholders in the swiftly expanding wefox empire. 
With such a young and dynamic CEO at the helm, the insurtech sector looks on with interest in terms of what Teicke will plan next. A keen speaker and educator, he devotes much of his time to workshops and events where he uses his experience to coach other rising entrepreneurs and startup ventures. 
A self-confessed workaholic whose greatest indulgence is a decent night's sleep, Teicke's wealth has not led him to indulge in a lifestyle of the mega-rich. He sees little value in a material lifestyle and instead, values the creative process above all things. 
He says, "I think you can create without having anything. I have not had anything – I stopped taking money from my family at a very early age. I even sometimes think that financial freedom can destroy your drive to create anything."
A true romantic at heart, when once asked what his most valued possession was, he responded, "What is my most treasured possession? I don't own anything valuable as I would probably lose it somewhere. The one thing I am most thankful for is that my wife is part of my life."
Our advice? Keep watching this space. The sky won't be the limit for Teicke anytime soon.
Image credit: Julian Teicke, wefox