Pie Insurance: SME cover is overdue an online transformation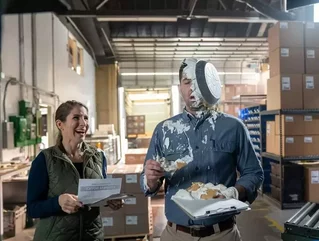 Small business workers' comp insurtech Pie Insurance has stated that its US$118m Series C round will usher in long overdue transformation in the secto...
The US-based was founded in 2017 with a mission to make workers' comp "as easy as pie" - hence its name.
Partnering with local, regional and national insurance agencies, the company claims that it can save small businesses as much as 30% on premiums. Quotes can be generated online in three minutes and Pie's services are available in 38 states.
The quality of its services has not gone unnoticed: Pie currently holds a score of 4.5 on Trustpilot, has featured on the ', and has raised over $300m in capital so far.
Transforming commercial P&C
Investors and led Pie's Series C round. Both apparently hold the company's long-term potential in high regard, with Dr. Nazim Cetin (CEO of Allianz X) going so far as to call its business model a transformation in the US commercial P&C market:
"Using pioneering technology, Pie has revolutionised the customer experience, ensuring that a previously-lengthy process has become more efficient for everyone involved. The company has enormous growth potential far beyond its current core business."
Lauren Kolodny, Founding Partner at Acrew Capital, was similarly enthusiastic, "In less than four years, Pie has become one of the fastest growing insurtechs in the country, and we're thrilled to partner with a team that has a passion for improving small business insurance through technology. 
"Pie's impact on small businesses has been incredible to watch, and we believe they are one of the most compelling companies in insurance today." 
Supporting small business
The rise in remote working instigated by the pandemic is creating new workplace paradigms that could position small business as the future of commerce.
New, agile and digitally native organisations are offering a glimpse of what a thoroughly integrated world can offer, and incumbents that fail to recognise the opportunity are likely to lose out compared to insurtechs like and .
In any case, John Swigart, Co-Founder and CEO of Pie Insurance, is of the opinion that commercial insurance is long overdue an online transformation, "Now more than ever, small businesses deserve to be supported, not hindered, by their insurance company. 
"Pie is leading the charge in building a more affordable and modern insurance experience, and today's funding enables us to expand our operations and invest in technology and tools that will have an immediate impact on our customers and partners."
Image source: Pie Insurance