Next Insurance partners with Amazon Business Prime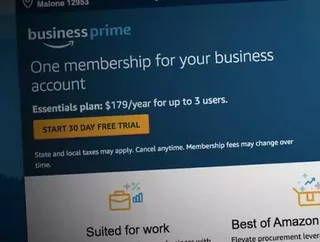 US-based insurtech Next Insurance will provide cover for eligible members...
The California-based insurtech Next Insurance has joined fo rces with Amazon Business Prime to provide small bus iness insurance products to eligible members. 
The service will provide policies to buyers or sellers on the popular Amazon e-commerce site.The upcoming startup's offerings will include Professional Liability, Commercial Auto, Tools and Equipment, General Liability and Worker's Compensation cover to Amazon Business Prime members. 
The news follows on from the acquisition of AP Intego - the Massachusetts-based digital small commercial insurance agency and one the US's fastest-growing Insurtech companies.
Next Insurance has enjoyed a meteoric growth over the past 12 months, registering a $250m Series D funding round in 2020 - one of the largest that took place globally last year. 
Amazon insurance partnership
According to reports, Next Insurance is also offering an exclusive 10% discount on general liability and professional liability policies to encourage adoption and incentivise customers. 
The insurtech is also aiming the products at businesses that sell goods and services on Amazon. The online retail giant specifies that particular sellers that earn a gross sum of $10,000 per month for three consecutive months must operate with insurance. 
Todd Heimes, Director of Amazon Business Prime told the press, "We know that small business owners are looking for innovative and cost-effective ways to streamline their businesses and save time, and that's what this partnership with Next Insurance helps achieve."
He continued, "We believe Next Insurance offering products to Business Prime is another example of how this program provides value and benefits to members."
Speaking about the collaboration, Guy Goldstein, CEO of Next Insurance said, "We believe the future of the insurance buying experience involves meeting customers where they already are and making it easy to purchase customized and affordable policies. With Amazon Business Prime, we are taking a large step toward providing greater access to seamless insurance coverage."