Marshmallow: Insurtech brothers in the boardroom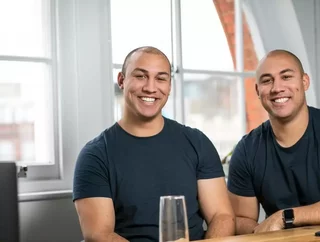 Oliver and Alexander Kent-Braham, co-founders of the insurtech unicorn, talk brothers in business as Marshmallow prepares to conquer Europe and beyond
Marshmallow is the startup car insurance app that recently became the UK's second black-founded firm to reach unicorn status. The fast-moving insurtech launched by identical twins Oliver and Alexander Kent-Braham in 2015 recently closed an $85mn, Series B funding round and has appointed has appointed Caroline Gillard as its first Chief People Officer as part of its broader strategy to scale its culture as the business continues its high-growth trajectory.
The operation won't be working from its current Old Street location for much longer either. Instead, Marshmallow is moving to a nearby office that has three times the space following its headcount increase of more than threefold during the pandemic. The company also has plans to hire extensively as it moves ahead with its European expansion plans.
But what is it that makes companies run by siblings so very successful? Marshmallow is just one of several fintech and insurtech operatives founded by brothers, that is skyrocketing in terms of growth. Stripe, Saphyre, and Routable have all made recent, notable strides in the marketplace. We caught up with the brothers for a chat about what inspires them, siblings in the boardroom, and plans for the future.
Q: Tell us about Marshmallow and how and why the concept was developed?
We built Marshmallow back in 2015 after speaking to a friend of ours who had recently moved to the UK from abroad. They had been looking for car insurance quotes that were astronomically high. This was because the big-name insurers they were looking at would only take into consideration their UK driving record when pricing their risk, which is obviously non-existent for newly settled expats. In fact, in our research, we found that migrants in the UK were being quoted 51% higher than the market average.
These impersonal and outdated approaches are characteristic of the insurance industry, and they're exactly what Marshmallow was developed to challenge. Ultimately, we're here to reduce - and one day eliminate - the distress associated with insurance and caused by accidents. We're building new methods through which we're able to transform the insurance industry for good and support people in their hour of need.
Q: What does your sibling business partnership bring to the table?
I think it brings a unique advantage. If you were going to co-run a company with anyone, you'd want it to be someone who you trust the most. We look after different areas of the business, so we're able to divide and conquer, but we also come together and work as a team on the broader responsibilities across the company. We're not afraid to challenge each other, but we also respect and value the other's perspective.
Q: Do you argue a lot about the business's strategy?
We don't argue per se, but being brothers means we are more comfortable at challenging the other's opinion on something. We think that results in more rounded and considered decisions about the business strategy - so we definitely see it as a positive.
Q: Where do you see Marshmallow going in terms of expansion over the next decade?
In the next two years, we're looking to expand our team by around 400 people as we enter a new phase of growth and development. Car insurance is only the start of the story for Marshmallow and we're also in the development stages of expanding our product offering, which will be a key focus for us over the next few years. Alongside this, we'll be broadening our operations across Europe and beyond.
Q: If you hadn't entered the world of insurtech, what would you be doing now?
I think we would've still founded a company eventually - it's something that both of us were passionate about doing from a very young age.
Q: Would you still be working together?
Yes, definitely. Marshmallow isn't actually the first time we've worked together: we were both at digital identity company Yoti before we founded Marshmallow, so I think we'd always have ended up working together in some form.
Q: What activities are you most looking forward to doing after the pandemic?
Socialising and traveling are two of the things we've both missed during the pandemic. We're also really enjoying being able to come back into the office and work with and meet people in person again. We went into lockdown with 48 employees and we now have over 140 - so it's great to start to be able to meet those people properly!
Q: What inspires you in insurtech today?
Insurtech presents a unique opportunity to build a better insurance sector for all. We're working to build new ways to support and empower people in their hour of need, invest in technology to make those people safer in the first place, and make our products accessible to as many people as possible. Those are the core principles that drive us and our team day in, day out.