INZMO: A groundbreaking insurtech in the rental market
We caught up with Meeri Rebane, CEO and co-founder of INZMO - one of Europe's most successful rental insurtechs that is helping tenants and landlords alike
From high-velocity extreme sports to mobile-ready insurance policies seems like a bit of a stretch.
But Meeri Rebane, co-founder and CEO of the Berlin-based insurtech, INZMO, assures us that the conception and creation of the company has been a natural progression of ideas, experience, and inspiration. 
INZMO was founded in 2015 following Rebane's collaboration and subsequent partnership with Risto Klausen, a former professional motorcycle road racer and multiple Estonian and Baltic champion in the Superbike class.
She explains, "It was Risto's passion for motorcycling that led to an earlier iteration of the company - Bike ID, an international bike registry founded in 2015 to counter bike theft. 
"To monetise the platform we integrated an app to sell bike insurance and upon realising the potential of easy-to-use online insurance services, we pivoted the business in 2016 to become INZMO (insurance on your mobile)."
Today, the insurtech company focuses on B2B2C solutions across multiple verticals from consumer electronics to bike insurance. It also recently launched a rental deposit guarantee service in Germany. The product is backed by Société Générale Insurance and is doing away with hefty upfront rental deposits and making life easier for tenants in the rental market.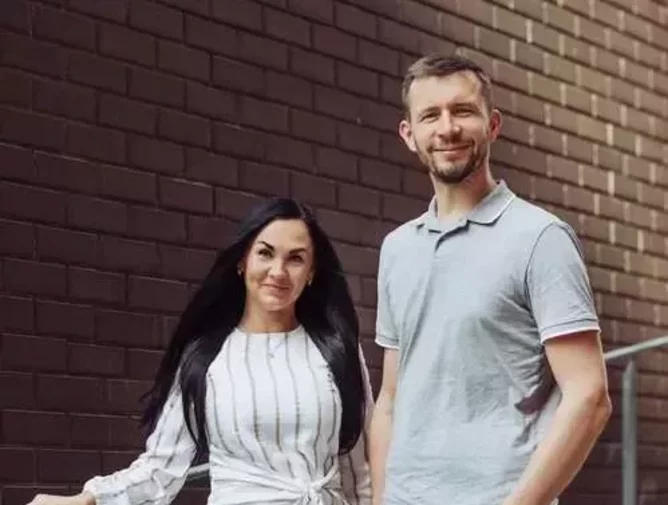 Image credit: INZMO co-founder, Meeri Rebane and Risto Klausen
An insurtech for tenants
The creation of what is now termed as 'proptechs' - insurtechs and fintechs that have entered the space and added their own unique twist to the property sector, has been expanding of late. Rebane tells us that the growth is due to demand from customers who are not being serviced adequately by the incumbents. The services provided by INZMO and other proptechs of its ilk, have therefore become essential. 
Pressure on tenants particularly is high, she points out, as they struggle to find large deposits to fund their accommodation costs in the expensive German rental market.
INZMO is also headquartered in Berlin, with a number of its employees renting in the city centre, and therefore sees firsthand the challenges the rent cap ruling places on tenants as well as the financial pressures typically associated with renting a property.
"In Berlin, for a one to two-bed flat, this can typically amount to €2,400. It's a significant drain on anyone's finances and arguably more so post-pandemic with finances squeezed. With our rental deposit product, tenants pay only a relatively small sum per month as a premium - a fraction of the full deposit," says Rebane.
The services offer flexibility as existing tenants can turn their current deposits into cash (which for many Berliners will offer much-needed respite following the end of the rent cap.
"This has meant an end to the rent freeze, higher rents on existing leases, back-payment demands on previously frozen rents) and replaces the upfront deposits for those entering into new rental agreements. Instead, tenants pay a monthly fee starting from €3.50 - a fraction of the full deposit and for many of us with restricted cash flow, it offers an affordable and fairer financing option."
Differentiators in service and products
As more companies join the insurtech space, being able to offer customers something unique, be it through products, services, or both, is essential. INZMO is Germany's first digital rental deposit guarantee backed by Société Générale Insurance. In addition to providing a more affordable financing option for tenants, the company also simplifies the process, taking the administrational burden away from landlords, letting agents and property management companies.
"They can offer the solution to tenants at the point of application and can let their properties out more quickly," says Rebane. "We're delighted to have partnered with a number of top companies in the field which is helping us to develop and expand our footprint. We designed our product to be sold B2B2C - that way you have property management companies doing the marketing for you, they're also incentivised to make this work for both parties."
INZMO also makes life easier for landlords when it comes to transferring large sums of money. In Germany, there are several landlords who own or manage large portfolios of 1000-plus properties. Handling all of those deposits is a time-consuming and highly regulated task, she says.
"We're also speeding up the typically slow and complex claims process. Tenants and landlords can use photos to verify that the property is being handed back in the same condition as it was rented. It's quick and easy and once everything is checked the policy stops. Both parties can use the INZMO app. They don't have to spend time dealing with the underwriters, so again, that solves a number of headaches."
Proptech and insurtech in Europe
In the UK and other European countries, homeownership is more popular than renting. This is particularly true in the UK specifically, where homeowners make up 65% of the housing market. Rebane says Germany is therefore leading the way in terms of proptech/insurtech, precisely because it boasts Europe's largest rental market with around 85% of the population renting their housing.
But this doesn't mean that there isn't a place for companies like INZMO in the UK - or indeed, in the rest of Europe. Rebane explains, "The rental deposit issue however is common in most of the larger European cities. In cities like Paris or London which command skyhigh rents (requiring even heftier deposits) the problem is further exacerbated and deposit replacement arrangements are making big in-roads. The alternative financing option is becoming increasingly popular as rents continue to spiral and in response to the rapidly changing rental sector vs ownership dynamic."
Indeed, the benefits for lettings agents and landlords, a boost in demand and the ability to let properties faster and reduce void periods are all factors driving the rental insurtech market forward. "Further afield in the US we're also seeing some states mandating that a deposit alternative is offered to tenants," she says.
The importance of customer-centricity
Putting the customer at the centre of the business model has also been a winning formula for INZMO. Rebane says today's consumers are less inclined to show loyalty to brands particularly when the switching process is so simple. If there's a break in the customer journey companies don't get a second chance.
"One of the key things we realised early on was the need to be in control of every part of the customer's journey," she says. "As soon as you outsource any part of the process, steps in the customer's journey can get broken. And that's a mistake a lot of others make. You can't guarantee that everything will go well unless you do everything yourself. So that's what we do.
"Everything is done in-house. This also allows us to keep on top of the issue of speed. We also don't have to worry about outsourced customer care providers and how they might be communicating with our customers, especially when there is negative news to deliver. When customers sign up with INZMO they are guaranteed quick, consistent, and trusted support.
"And we continue to invest heavily in top talent and in developing proprietary solutions and experiences that don't yet exist in the market and serve to enhance the customer journey and keep us ahead of the curve."
Creating a more diverse insurtech space
The success of INZMO is a testimony to the determination of Rebane and her business partner. But it's also been an interesting experience in terms of challenging the norms and helping to address the balance in a sector that is, in her own words, a "very male-dominated" environment. 
"Female insurtech founders are grossly underrepresented," says Rebane. She points out that around 4% of insurtechs are founded by women and as a startup headquartered in Germany this is even more pronounced as again just 4% of startups are female-founded.
"It's rare for me to come across other female insurtech founders and more so than in fintech. One of the biggest challenges I've faced is fundraising. Of course, the odds are stacked against all startups but for female founders and ones working in fintech/insurtech the battle is even tougher and particularly when it comes to funding.
"With so few women in the field, what I can say is that female founders do stand out. With a smart and passionate pitch, investors are likely to remember you. From my experience, it also appears that the industry is acutely aware of the underrepresentation of women in the sector and I'm gradually noticing more initiatives and programmes aimed at encouraging and supporting the female pipeline."
However, positive change is afoot and Rebane says that the industry has evolved significantly during the pandemic. Innovation in customer experience is now one of, if not the biggest, factors differentiating insurtechs. "With consumers and traditional insurance players alike embracing digitalisation and more receptive to new solutions than ever, I expect to see more opportunities for women entering the industry."
What's new for rental insurtechs?
With so many developments in the space and so much room to grow, it's difficult to pinpoint all the elements and trends that are occurring simultaneously. But Rebane is adamant that much needs to be done in terms of regulating the market, not only to protect and serve customers more effectively but also to help the industry bloom.
 "We'd like to see the introduction of fairer, faster, and more convenient solutions for all of the parties involved in the rental process. Additional products aimed at short and mid-term lets covering both payments and liabilities support will also satisfy the needs of landlords considering letting out their properties. 
"With deposit replacement schemes becoming more commonplace we are gaining the trust of landlords who see the benefits and are increasingly interested in offering the arrangement to existing and prospective tenants. We believe it's only a matter of time before they become a more mainstream option, particularly post-pandemic."
Expansion for INZMO
In terms of developments for INZMO, more services and products for customers, entering new markets and enhanced technology integration, are all on the urgent to-do list.
"We are always working on developing and enhancing our product portfolio. Our ambition is to become a one-stop-shop for the tenant's home insurance needs - from insuring the actual moving process to contents and consumer electronics insurance. People want their belongings insured, especially their essential gadgets that are used daily.
"Looking ahead we're planning to integrate AI and machine learning into our platform to further accelerate the claims handling process and enhance the customer experience."
Rebane adds, "We're also developing the capability to offer dynamic pricing based on our clients' profile and behaviour and to give them total flexibility when it comes to selecting the level and type of insurance coverage they actually need."
Main image credit: Team INZMO
Meeri Rebane describes herself as a "serial entrepreneur with a passion for breaking new ground to lead social change, with management experience and ability to lead and build the capabilities of a driven, bright, diverse team. As the co-founder and CEO of INZMO, she says, "I have a strong interest in communication and relationships psychology - currently focussing also on developing my knowledge in Strategic Intervention (also known as SI).