Insurtech set to grow at CAGR 45.28% says Technavio study
A new market report by Technavio predicts skyrocketing growth in the insurtech industry between now and 2025
Insurtech looks set to grow at a CAGR of 45.28% between now and 2025, according to the latest market report by the research organisation, Technavio. 
The report, which covers a range of drivers and trends emerging in the insurtech space, also takes into account the market environment.
The report echoes similar findings released by Grand View Research in January 2021, where research indicated that the growth of insurtech would be slightly higher - at 48.8% between 2021 and 2028. The data, which put the massive growth mainly down to an increased understanding of policyholder behaviours, also said the industry would hit a market size worth of US$60.98bn. 
A fragmented insurtech marketplace
However, despite the predicted growth, Technavia's report also indicated that the market is suffering from fragmentation - and that this will continue to increase as the marketplace grows. It said, "The market is fragmented, and the degree of fragmentation will accelerate during the forecast period."
The study then went on to name several companies that will take a lead role in driving forward the industry. These included:
Alan SA

Clover Health

Cytora Ltd.

Haven Life Insurance Agency LLC

Oscar Insurance Corp.

Quantemplate Technologies Inc.

Shift Technology

Simplesurance GmbH

Trov Insurance Solutions LLC

ZhongAn Online Property Insurance Co. Ltd. 
Insurtech marketplace changes
Several key areas in need of reform were also pinpointed by the report, which said insurtechs need to streamline and improve business efficiency. Insurtechs should make use of the influence of digitisation and the 'increased need for greater customer satisfaction. The study also noted the high cost of investment and said it was a dampener for market growth.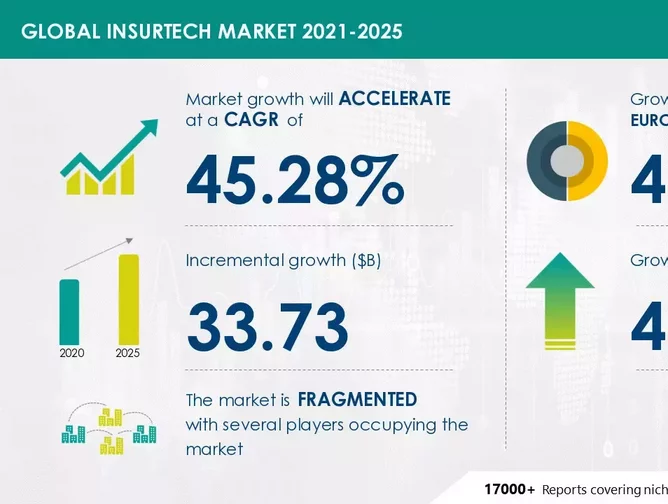 Credit: Attractive Opportunities in InsurTech Market by Value Chain Positioning and Geography - Forecast and Analysis 2021-2025
Insurtech customer preferences
The report findings echo the results of a Capgemini study released last month that shows customer preferences in terms of insurtech have shifted dramatically in recent months. 
The data, which was published in September 2021, revealed that for the first time, over half of insurance customers are open to buying coverage from new, digital insurers and that incumbents are seeking strategic partnerships to stay competitive. 
The data also showed that technology companies and insurtechs now have never-seen-before access to capital allocation from investors. These companies are enhancing their digital offerings and "increasing their lead" as innovators in the insurtech space. 
 
The Capgemini report concluded: "Opportunistic venture capitalists and private equity partners are deploying early-stage capital. While reinsurers are actively playing two critical roles: enabling InsurTechs through investments and providing essential underwriting capacity."