InsuranceDekho raises US$150mn in Series A funding round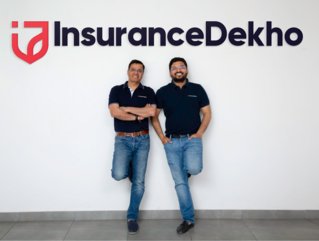 InsuranceDekho has raised US$150mn in the largest insurtech Series A round by an Indian insurtech. It aims to roll out services in rural areas
InsuranceDekho, India's leading Insurtech company, has raised US$150mn in Series A funding consisting of a mix of equity and debt, in the largest ever series A round by an Indian Insurtech.

The Series A round was led by Goldman Sachs Asset Management and TVS Capital Funds with participation from Investcorp, Avataar Ventures and existing investor, LeapFrog Investments.

InsuranceDekho is an insurtech success story

Launched in 2016 by Ankit Agrawal and Ish Babbar, InsuranceDekho enables consumers to compare different insurance policies based on their requirements and helps them purchase the most suitable plan.

According to reports, the company currently has tie-ups with 46 insurance companies offering more than 380 plans on its platform and an estimated 10 Indians buy a policy from InsuranceDekho every minute.

The company has seen significant premium growth and aims to achieve an annualised premium run-rate of INR 3,500 crores by March 2023.

The latest funding will be used to scale up InsuranceDekho's product and technology offerings, roll out its services into new markets, launch new products in the health and life categories, grow the company's Micro, Small & Medium Enterprise (MSME) insurance business, and strengthen its leadership team.

Taking insurance beyond urban regions in India

Data shows that currently, India's insurance penetration is 4.2% of GDP compared to 12% in the USA and 7% globally. Reports show that almost 85% of India's existing insurance premiums are centred in cities.

Part of InsuranceDekho's mission is to provide access to insurance throughout the country, increase in total household income within six months of being associated with the company.
Speaking about core aims and the latest mega funding round, Ankit Agrawal, CEO and Co-founder, InsuranceDekho, explained: "We need to go beyond the urban regions when it comes to insurance penetration in the country. To realise our goal of democratising insurance for the general public, we are expanding our reach and will continue to build on our tech-based solutions and empowered advisors so that they can serve every village and region of India by the end of the year.

"India is on the verge of a revolution in insurance, and InsuranceDekho is well positioned to meet the insurance needs of every Indian."

Meanwhile, Ish Babbar, CTO and Co-founder, InsuranceDekho, added: "Insurance distribution in India is a complex problem that needs innovative solutions. The fundraise will enable us to deploy scalable Insurtech solutions in the areas of data analytics, Artificial Intelligence, last mile servicing and claims management while keeping customer experience at the core of everything."

InsuranceDekho works with most insurance providers and has direct integration with 46 insurance companies across India offering more than 380 insurance products including 175 products for health and life. InsuranceDekho intends to expand its portfolio by offering more products in near future.