Farmers Insurance adopts Boston Dynamics robot technology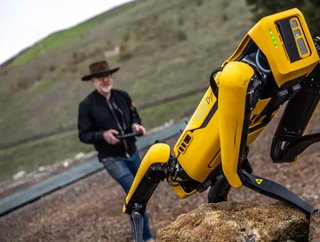 Farmers Insurance is trialing 'Spot' from Boston Dynamics to manage claims handling and inspections
The Southern Californian P&C insurer, Farmers Insurance, is trialing 'Spot' the robot dog as part of its claims handling and inspections service enhancement. 
The company is planning to use the digitally controlled robot, made famous by the Boston Dynamics social media videos, to assist in claims adjuster processes. 
Better risk assessment
According to reports, Spot is equipped with sensors and a 360-degree camera and site documentation software, which could help streamline the claims adjuster process. The robot could also assist Farmers Insurance in gathering information as the robot can reach areas that humans find inaccessible.
The most practical use for the robot will be the assessment of damage from catastrophes and natural disasters such as hurricanes, tornadoes, earthquakes, and wildfires. However,  Farmers may use the robot in other situations such as dangerous and collapsed structures.
Farmers may also deploy Spot to other areas - such as first responders that require assessment for safety, as well as search and rescue.
Robot deployment
Farmers said Spot will be deployed to the company by October 15th and will be managed by two employees being trained to operate it. Once the preliminary training has been done, Spot will be used initially in South California - but will have a wider field of travel if its services are required. 
Robot training
Speaking about the new robot dog deployment, Samantha Santiago, head of claims strategy and automation at Farmers, said that Spot will enhance the claims adjuster services. She explained, "We know that technology doesn't remove the interactions of humans, we view it as a way to complement and enhance our current processes. Farmers was an early adopter of drones, and as you can imagine, flying in the air can be tough, so we wanted to leverage technology that is more on the ground to help employees and customers."
Santiago said the first stage of the project was to make sure the two operators can manage the new technology proficiently.
"We are spending time with them learning the tech and training with Boston Dynamics," she said. "We are going to test the robot in various scenarios, things like fires and structural damage. We believe that we can leverage Spot's agility, mobility, and ability to navigate."
A Boston Dynamics spokesperson said of the move; "Spot goes where wheeled robots cannot and can traverse uneven terrain, navigate inside buildings and cramped facilities, and provide detailed visuals in environments that could be hazardous to humans. The robot is also outfitted with specialized payloads like a PTZ and thermal camera that provides a 360-degree field of view for more detailed inspections, and the Spot Arm attachment can be used to open doors and to grasp, lift, carry, or drag objects."
Santiago added, "We are most excited about testing it. … We are excited to see if Spot can venture to places that are tough to go to or not safe."