Embedded Insurance & Streamlined Customer Journeys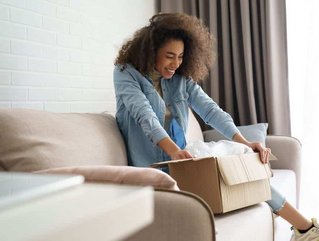 Megan Bingham-Walker, co-founder & CEO of embedded insurtech Anansi, discusses the pros and cons of embedded products at the checkout
No one wakes up in the morning thinking about where they can buy their next insurance product. In order to raise awareness, and distribute their products effectively, insurance companies often have to work with third party partners; leveraging the power of brand identity and tapping into a community of loyal customers.One example is home insurance offered in partnership with major department stores; the insurers leveraging the relationship of trust that the store has with its customers base.
First generation embedded insurance transformed this process by leveraging digital technology to "seamlessly integrate insurance products and solutions into [the] customers propositions and journeys of banks, retailers and ecommerce platforms. With this technology, insurance could be delivered through the digital tools that customers use every day, and it was possible to buy flight insurance and extended product warranties for high value electronics at the checkout. These platforms already held customers' details, giving more insight into purchasing behaviour. This, along with fewer forms required to secure the insurance, resulted in a much more targeted, faster and efficient way to deliver insurance products.
Embedded insurance and customer expectations
Despite these advantages, customer expectations still far exceeded what this initial iteration of embedded insurance could offer. In today's digital world, the quality of the customer journey is often set by the experiences that customers enjoy with leading tech giants, and this expectation of choice, speed and relevance also extends to the post-checkout experience. One of the reasons why people love buying products on Amazon is that the deliveries are reliable and, on the rare occasion that something does go wrong, communication with the customer is effective and the problem is rectified as quickly as possible. This best-in-class customer experience is the benchmark by which consumers judge all of the other digital experiences that they have throughout the rest of the business world, and is why we now see a shift towards embedded insurance 2.0.
Embedded insurance isn't always frictionless
Since time immemorial, it has been said that the claims process is the shop window for insurers. Insurance is a promise that if you have a claim, you will be made whole to the extent that has been agreed, and this journey takes place through the claims process. So, what do customers see when they look through the shop window of insurance products? Sadly, many see a negative experience.
At Anansi, for instance, we regularly hear horror stories from frustrated customers who have struggled to insure their goods-in-transit. They have experienced friction across the entire process; prices are often extremely high (5-10% of cart value), claims cannot be completed online and they've endured lengthy waits 'on hold' trying to get through to the call centre. As a result the claims can take months to process which, can in turn, lead to conflicts of interest. Even if claims are received, some customers report they are only paid out at a fraction of the loss experienced. This is why we are so passionate about embedded insurance 2.0; we must ensure that customer experiences are optimised beyond the checkout and make these customer journeys as seamless as possible.
Digitally native embedded insurance solutions
There are many real-world examples of embedded insurance 2.0 improving the customer journey. Extend, the US startup, has built a digitally-native solution for a better product protection experience for both merchants and their customers. One of many exciting aspects about this platform is the customer portal, which provides customers with an easy way to contact the insurer, file a claim and rectify the problem should there be an issue with their goods. With these portals, merchants no longer need to worry that adding an insurance option at the checkout risks an increase in customer service queries and complaints when things go wrong.
Organisations that use parametric triggers for the claims process are already delivering embedded insurance 2.0 today. This approach leads to significantly faster payouts and much greater clarity on the level of claims payouts in the case of a loss. Blink Parametric is just one example of this; bringing a suite of parametrically powered products across a number of different insurance lines, having started with flight delay insurance.
At Anansi, we've developed an embedded digital insurance platform that is easy for businesses to integrate across the ecommerce value chain; third party logistics partners, ecommerce platforms, fulfilment firms, and online marketplaces can all offer their merchants direct access to the Anansi platform via an API. It uses data from the ecommerce partner and carrier tracking to calculate when items are delayed or lost on a parametric basis, and damage claims are semi-automated based on photographic "proof" from the customer. In this way, ecommerce merchants can both easily purchase goods-in-transit insurance and optimise the post-checkout experience for their customers.
The market opportunity for embedded insurance is huge, with the market size for embedded P&C insurance estimated to be $722bn in Gross Written Premium by 2030, many believe 'embedded' will become the dominant method for distribution for some lines of insurance. However, it's important to recognise that customer attraction and retention not only relies on a smooth purchasing journey, but also a post-checkout experience that fully caters to all of their needs.
About the author: Megan Bingham-Walker is the co-founder & CEO of embedded insurtech Anansi which provides automated shipping insurance products for the ecommerce retail space.