Data specialist Veridion raises $6mn to expand AI offerings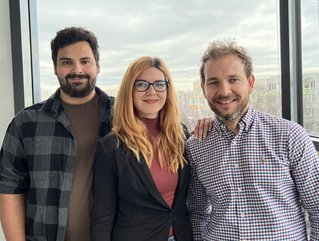 Veridion's founding team
Bucharest-based insurtech Veridion has raised US$6mn in capital to deepen its AI comprehension of the business landscape
Romanian data specialist Veridion has raised US$6mn in capital to deepen its AI comprehension of the business landscape.

The Bucharest-based company saw robust growth figures in 2022, with a three-fold increase in recurring revenue and an impressive zero churn in clients. Their biggest clients include, among others, tier one consultancies with specialised procurement and insurance teams, one of the largest global insurtech platforms, procurement platforms, and top tier market intelligence companies.

Formerly branded as Soleadify, Veridion uses the round to finance the company's proprietary APIs that are specifically trained to understand the global business landscape, enabling their clients.
Deploying AI to enhance the insurance industry

Veridion is one of the first companies to deploy AI at this scale for data acquisition, setting them apart from the traditional firmographic data players that buy data from government registries as well as simple web-scraping alternative data providers.

The company classes itself as a new-age data vendor that specialises in Firmographic Data. They maintain a weekly-updated database of over 80 million Company Profiles. Their data covers every aspect of a business from identification, locations and classification to product offerings, ESG topics.

Veridion leverages the power of AI to revolutionise big data and to comprehend billions of web pages every week in order to build and maintain a highly accurate, global scale, near real-time, single-source-of-truth database of company data made available through a Complex Search API and unique Matching and Enriching API.
Supporting data collection and aggregation for insurtech

Veridion's client portfolio includes a number of high-profile insurtechs and insurance carriers that need to access reliable data on 80 million businesses worldwide. The solution, reports Veridion, saves thousands of hours of manual research and to ultimately make more accurate assessments of risk.

According to reports, the round was funded by LAUNCHub Ventures, OTB Ventures, Underline Ventures and existing investors Day One Capital and GapMinder Venture Partners.

Speaking about the latest funding round, Florin Tufan, Founder and CEO of Veridion, explained: "We believe that the next generation of business decision engines will require a completely new format of data. Throughout the insurance market, predictive models will increasingly rely on AI more than human intuition to essentially make more accurate assessments of risk. For this to happen, the models need to be capable of processing exponentially more data as their core resource."

He added: "The data needs to be fresh, granular, easy to work with, and integrate-able across a wide array of processes. This has been our focus from the beginning and with this round, we'll be able to double down on our approach."