The Phygital touch: fusing digital and physical in finance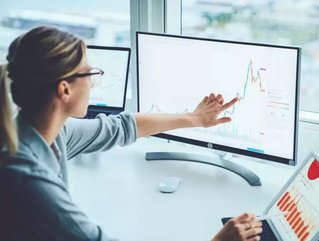 Banks have undergone extensive digital transformation. But is it time for them to realise the potential of combining the physical with digital...
The Journey to Phygital
Imagine a world where your bank isn't just a bank. You can wander in, grab a coffee, meet up with friends, play a bit of table football, and then get down to business and deal with your personal financial matters.
That's the world promised by Phygital, a portmanteau aptly describing the merger of digital and physical within a particular space. While Phygital has been embraced in the world of retail (for instance, in the recently-opened Amazon Go supermarkets where you can physically explore products and pay for them using a smartphone app), it is only just becoming a reality in financial services. Yet as customers pine for physical interaction but also appreciate the influence of digital on their lives, there's no doubt that it will only be a matter of time before Phygital properly takes root in retail banks.
The Limits of Digitalisation
Digital transformation has been something of a buzzword amongst institutions in recent years. Many incumbent banks have endeavoured to digitise their services, allowing their customers 24/7 access to their finances at the touch of their smartphone screen. Open banking, particularly in the UK, has also precipitated easier access to finances, with APIs being built to enable 360-degree views of a customer's bank accounts even if they are spread across different institutions.
This has had a knock-on effect on the number of brick-and-mortar bank branches available to customers, as more services are transferred online. A study carried out by Medici Research found that, between 2017 and 2018 alone, the number of physical branches in the UK decreased by almost 3%. This trend is similarly reflected in many other countries including Germany, Sweden and the United States.
But this wholly digital approach towards financial services has left some customers longing for the days when they could walk into their local branch and speak face-to-face with a member of staff to sort out their finances. Similarly, some customers will struggle to manage their finances online and so depend on physical branches to deal with their accounts.
Combining the physical branch with digital features can create significant cost reductions compared with the existing branch model while also benefiting the customer by giving them more access to information specifically relevant to them, in turn having positive effects on institutions' income. A recent Accenture report showed that Phygital experiences generate twice as much revenue as traditional single-channel operations, as well as 30% more cross-selling and a third less churn. No wonder, then, that many banks are wanting to explore the opportunities it offers.
Phygital Focus
But who do banks have in mind when they ponder the transition to Phygital? Naturally, the main driver towards efficient, always-on omnichannel experiences is younger people, namely Generation Z. This demographic demands experiences which are fast-moving, yet at the same time they are keen to ensure that the product or service they are interested in is suitable for them, usually by visiting a store and experiencing it 'in the flesh'. A Barclays report exploring the customer trends of Gen Z found that 46% of those surveyed would visit a brick-and-mortar store to find out more about a product or service before committing to purchase it. These findings suggest that both physical and digital elements of the customer journey should work together to allow customers to view and discuss products and services in the physical environment, yet purchase said product/service digitally at a later date, if incumbent banks want to continue to remain relevant among younger users.
However, the security of the digital elements of this process is vital, particularly amongst older customers belonging to Generation X and Baby Boomers. A study showed that 56% of Generation X banking customers and 59% of Baby Boomers valued their personal data and took care of how it is used, suggesting that banks wanting to integrate digital and physical experiences need to ensure the secure handling of customer data. This may be easier in a Phygital setting, where in-person tellers and front-of-house staff can assure the customer that their data is being well looked after, rather than some distant and aloof GDPR text.
Does Your Bank Have What It Takes?
The benefits of Phygital are clear, but retail banks must be committed to ensuring they can create fully immersive and seamless customer experiences without compromising data security. Branches will be fewer than before, but the breadth of what they offer will be greater, tapping into the customer's desire for instantaneous access to products and services relevant to them.
Learn how to develop Phygital to suit your business by downloading Critical Software's white paper .