Munich Re: COVID-19 has not defeated reinsurance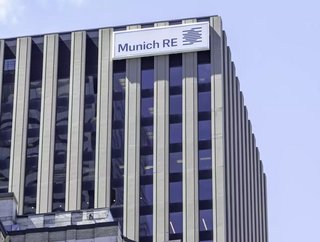 Paul Donnelly, EVP at Munich Re, details the lessons reinsurers have learned throughout the pandemic and why the industry's future is still positive
There can be little doubt that COVID-19 has dealt a heavy blow to reinsurance, with Q1 of 2021 alone incurring an estimated US$4.4bn of claims. However, according to Paul Donnelly, EVP EMEA at Munich Re Automation Solutions, though it might be shaken, the industry is far from beaten.
In charge of overseeing the provision of MRAS' life insurers with systems and services to help digitise POS, Donnelly has a complex understanding of the region's various markets, from Oslo to Cape Town, Dubai, and Dublin. We spoke with him on reinsurance's future and areas for growth still available.
Q. Reinsurers have met high claims costs in Q1 because of COVID-19. What will be the global roadmap for recovery?
While claims may of course have an impact on the profitability of any insurance or reinsurance business, you should not lose sight of the fact that claims are the concrete validation of the purpose and social value of our industry.
Let me underscore one of the unusual aspects of our industry: the longevity of many of the key players in the industry. Munich Re Automation Solutions is part of an organisation that has been in business for over 140 years. 
I was recently looking back at the life insurers my unit has helped over 2020/21 to implement state-of-the-art digital journeys for onboarding their customers. That list includes MetLife, Generali, Helvetia & Prudential, all businesses that are older than Munich Re. 
This highlights both the ability of the industry to take a longer term view than one quarter or year as well as the roadmap forward through adopting the latest technology to constantly improve CX.
Q. What lessons have (or should have) reinsurers learned from the pandemic?
Traditionally insurance (and life insurance in particular) has complex products and the differences between them are too subtle for many applicants to navigate. As a result, an advisor or insurance broker nearly always had to meet the applicant face-to-face.
However, the pandemic has woken the industry up to the idea that this may not always be possible, and the journey needs to be digitised. Therefore, this demands a much more streamlined process, ensuring that any required underwriting information is captured in one session to avoid the use of follow-on questionnaires on the applicant's medical history or pastimes. 
For example, the US market is rich with third-party data aggregators. These provide extraordinary levels of detail for application information during the underwriting processes, ranging from driving history to the use of prescription medicines.
As pandemic restrictions are eased and the industry continues showing signs of recovery, we expect global insurance businesses to follow suit and embrace a digital focused mindset. 
While traditionally a relationship-oriented industry, the need for physical interaction in underwriting is withering. As a result, we expect that the savvier insurers will be implementing augmented automated underwriting systems, leveraging machine learning and AI capabilities.
Q. Are there still significant areas for growth in reinsurance, or should the sector refocus on consolidation and value?
As society evolves and our commercial and personal interactions become more nuanced and complex, the opportunities to play a supportive role for insurers grow. There are constantly new risks that businesses and society must overcome and each new risk provides an opportunity for insurance and reinsurance to demonstrate its value.
Let me give you an example from my non-work life: I am based in Ireland and outside of my role at Munich Re, I am chairman of Ireland's leading acute hospital, St. James's Hospital. In May, Ireland's healthcare system suffered the most significant ransomware cyberattack in its history. I am told the likely cost of this attack will be €100mn. 
This is a risk that was practically unheard of 10 years ago and yet we are highly cognizant of it today. Enabling businesses to navigate risks such as this with confidence presents both an opportunity for insurers and reinsurers to demonstrate their worth, as well as a business growth opportunity for them.
Q. Have you observed a refocus around CX recently?
For a long time there has been a cohort of insurers that have sought competitive advantage through tech adoption, providing seamless CX and user journey. What has changed in recent months/years is that this is now no longer a "nice to have", but has become what my US colleagues call "table stakes". 
The digital-native insurance customer of today demands an elegant customer experience, and will not accept the clunky user journey that the life insurance industry has been riddled with for decades. In some markets during the pandemic, the broker community is also "voting with its feet" and reevaluating their relationships with carriers based on the user experience provided to them as intermediaries.
Special thanks to Paul Donnelly for taking part in this Q&A