Five minutes with...Alena Kharkavets, VP at BrokerLink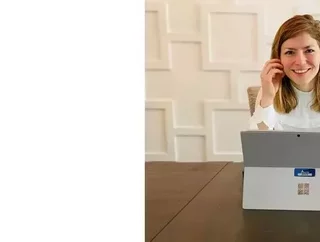 In the first entry of InsurTech Digital's new 'five minutes with...' section, we asked Alena Kharkavets from Brokerlink five questions...
In the first entry of InsurTech Digital's new 'five minutes with...' section, we asked Alena Kharkavets, VP, Digital Strategy & CX at BrokerLink, five questions about her background and what motivates her in insurance today.
Q. Who was your childhood hero and why?
Patricia Kaas. My parents played her single "Mademoiselle chante le blues" in my childhood home in Belarus. The song played while the Soviet Union collapsed and Belarus transitioned to independence. I couldn't understand a word she was singing. But her voice carried defiance, presence and poise. It anchors me to this day.
Q. What was the best book you read last year?
"So You Want to Talk About Race" by Ijeoma Oluo. I picked it up in an independent African-Canadian owned bookstore in Toronto. Raised in a mixed-race family, Ijeoma unpacks complex topics of race and intersectionality through first-hand experiences. It is a superb primer for anyone who wants to see more unity and less division in the world.
Q. Which activity are you most looking forward to doing when the pandemic is over?
To have a big party at our house and invite everyone! Also, to travel the world again with my kids and spouse. Our four-year-old talks non-stop about our last trip to Kuala Lumpur and Bali; it's really formative for kids to experience the world. On a serious note, it's about seeing loved ones mask-free.
Q. Is there a personal achievement from 2020 of which you are particularly proud?
Being able to create new mental health routines – and stick to them. With two toddlers running around at home and working virtually, it took a few months to adjust. First, I started hitting 10,000 steps daily. Then I added a short yoga or meditation routine. I use a great app, Down Yoga. It's so key to unplug!
Q. What inspires you in insurance today?
I never imagined how impactful the collaboration is when you bring talents from different disciplines and generations together and ask them to problem solve! It produces unparalleled work. Digitization enabled this. It is pretty cool to work in a centuries old industry where we continue to innovate to make life easier for our customers.
Read our full profile article on page 92 of InsurTech Digital January 2021