Duty of care
By Martin Canwell, Solutions Consultant, Aptean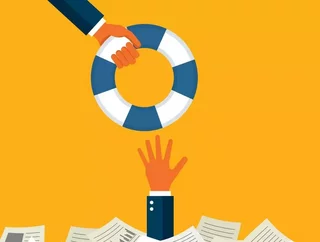 Aptean's Martin Canwell looks at the steps businesses can take to ensure fair treatment of vulnerable customers during and post-pandemic...
While the full effects of the COVID-19 pandemic are yet to be seen, what we can be sure of is that they'll be far-reaching and transformative.
Another certainty is that the number of vulnerable people out there has increased massively and will continue to do so with the far-reaching physical, mental, financial and emotional consequences of COVID-19. Unfortunately, this pandemic has created a society where potentially every customer is a vulnerable customer.
For financial services businesses in particular, many of whom were already struggling with fulfilling their obligations when it came to vulnerable customers, this will prove even more challenging. Previously vulnerable customers are now facing further detriment alongside a whole host of newly vulnerable customers. The new 'normal' customer could very well be more self-aware and emotionally engaged, as well as more risk-averse and looking to re-establish trust in many aspects of life. The truth is, we just don't know, but we do know that we need to be in a position to treat these customers responsibly. Staff, too, aren't exempt, with an expected upturn in the number of vulnerable employees for whom employers also have a duty of care, adding another task for businesses everywhere.
Priority list
Against a backdrop of lost revenues and changing business models, this rise in the number of vulnerable customers and employees is set to pose a considerable challenge for many businesses. While we're still awaiting the official guidance from the FCA regarding the fair treatment of vulnerable customers, businesses can't afford to park the issue until then. For the well-being of their customers and staff, not to mention long-term prospects for their business—which depends on the nurturing of relationships with both customers and staff—the need to effectively manage vulnerable customers should be one of the key organisational priorities right now.
In essence, the challenges facing businesses when it comes to customer vulnerability are the same as pre-pandemic, just on a larger scale. Pre COVID-19, the issues businesses were trying hardest to get to grips with were identifying vulnerability—something that's particularly problematic when you're dealing with transient vulnerability—and deciding what the next steps were to deal with vulnerable customers.
Business as usual?
There are added complications due to COVID-19 though. At the same time as providing for vulnerable customers, businesses are under increasing pressure to maintain 'business as usual' when it comes to dealing with customers, with many people looking to their suppliers in times of crisis to provide reassurance and some semblance of normality. With this in mind, it's vital that businesses seek to manage customer vulnerability through existing processes, avoiding a total overhaul of their procedures which would probably only serve to increase the anxiety and vulnerability of already vulnerable customers. 
As such, businesses shouldn't be looking to change existing workflows, searching instead for solutions that are easy to implement and adapt, not inserting additional steps for employees but overlaying tools and information onto what already exists. For example, this could be making additional fields available to call handlers at different stages of the customer journey to ensure key vulnerability factors are considered at every step of the way. If businesses embed vulnerability policies and framework into the case management lifecycle, it proactively brings vulnerability considerations to employees. 
Not only does this help with the identification of vulnerability, but it helps to fulfil the obligations businesses have to look after vulnerable customers. So, this might include a reminder issued by the case management system that a particular customer needs to be talked through correspondence on the phone before it's sent out, or perhaps they need a bigger font for correspondence, or perhaps braille. What's important is that this information is in the system and is presented to the user, rather than the user having to search for it.
Customer-first mentality
This is all part of the wider issue of supporting customer needs and communicating with them how they want to be communicated with, rather than how best suits the organisation, meeting and exceeding specific expectations and needs, for optimum levels of customer satisfaction. This use of self-serve for customers can help here, too. Businesses can provide the ability for customers to input information on a web page, this can link straight back into the case management system, meaning that for the initial interaction with an employee on the phone or via email, some of the background information to that particular case is already there. This serves to optimise the time spent communicating with the customers, getting right to the crux of the issue and minimising the time spent on the often time-consuming discovery phase, while facilitating rapid resolutions for the customers in question.
In a similar vein, making use of contextualised feedback generated post-interaction through surveys and questionnaires can go a long way to better understanding customer needs. Not only can this knowledge be applied to the individual customers who have provided the feedback, but it can be used to inform future best practice across the business, too. It's this ability to flex to suit customer needs that will be key as we all navigate our way through the post-pandemic world.
Tools and training
But what about staff? Providing the tools to help with identification and management of vulnerable customers is, of course, a major boost, but these need to be supplemented with training not just on dealing with vulnerable customers, but with guidance as to how to bolster their own resilience. With many staff working from home during the pandemic, the in-office support networks and sounding boards aren't as readily accessible, putting more pressure than ever on staff, particularly if they're dealing with vulnerable customers and are vulnerable themselves. Similarly, teams are being redeployed to make up for staff sickness and furloughed teams, so businesses need to ensure that staff have the full skill-set required to deal with the customer situations in which they find themselves. Again, it's about identifying requirements and responding accordingly, be that for customers or staff.
Rather than being regarded as an insurmountable challenge, the rising number of vulnerable customers presents an opportunity for business to raise standards right across their organisation, putting in place the right processes and procedures to not only ensure the fair treatment of vulnerable customers but to provide a personalised, tailored service to each and every customer. Responsible business practice when it comes to vulnerable customers actually benefits the entire organisation, nurturing long-term, successful customer relationships to guarantee the sustainable success of the business. As we emerge from the fog of COVID-19, prioritising the needs of customers and staff and responding accordingly has to be a priority, with those businesses who fail to do so almost certainly setting themselves up for a fall at the first hurdle.
This article was contributed by Martin Canwell, Solutions Consultant, Aptean