Will insurers start to feel the heat from climate change?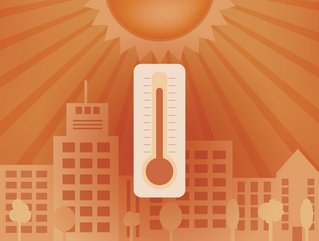 General Insurance Leader at PwC UK Mohammad Khan says: "It's clear that the ongoing impact of climate change will significantly shape how the sector will choose to manage and absorb risks"
Analysis from PwC suggests extreme temperatures could lead to increased subsidence insurance payouts of up to £1.9bn (US$2.48bn) by 2030
As global temperatures continue their upward rise as a result of climate change, analysis from PwC indicates insurers will be increasing their subsidence payouts by up to £1.9bn (US$2.48bn) from 2030, as a result of sustained heat, flooding and heavy rainfall.

Heat waves hitting insurers' pockets
In particular, PwC's data suggests subsidence-related insurance claims will increase rapidly during sustained periods of heat throughout the summer months.
Not only this, but extreme winters are likely to have a significant impact on subsidence payouts, with PwC indicating that payouts could soar to £500m (US$653m) by 2050 if flood management approaches and expenditures remain unchanged.

Extreme winter weather across 2019 and 2020 saw insurers lose £333m in subsidence payouts, so it seems perfectly reasonable to assume the average payout figure will rise to significant levels by 2050.
Furthermore, PwC notes that in the UK alone, the economic average cost of flooding could increase up to 18% for fluvial flooding and 43% for coastal flooding by 2050.
Will cover for weather-related risks become unaffordable?
General Insurance Leader at PwC UK Mohammad Khan says: "Our model attempted to put a numerical figure on the impact extreme weather will have on insurance claims. With repeated very hot summers, we are seeing a rise in subsidence cases.
"Given the already dry soil and further hosepipe bans, we could see a significant spike in subsidence, which causes the ground beneath a building to sink and potentially pull the foundations down with it.
"We are also seeing other property damage claims related to fires starting in nearby open areas that then spread to homeowners' gardens and result in fence, garage, and decking fires.
"Extreme weather events like this can result in some insurers taking drastic action, such as exploring the risk/cost benefit of giving cover in certain circumstances. This can result in cover for some risks becoming unaffordable or simply unavailable for homeowners in the worst affected areas.
"It's clear that the ongoing impact of climate change will significantly shape how the sector will choose to manage and absorb risks, and our new modeling proves that potential costs could be the deciding factor as to whether a household receives vital cover or not."