Top 10 insurance and insurtech-related awards schemes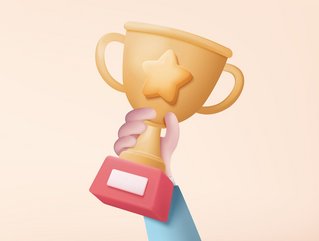 Being named an award winner gives insurance firms something to shout about externally.
Sometimes, a little recognition goes a long way – so we're recognising the world's biggest B2B awards schemes for insurance and insurtech firms
There's nothing quite like an industry award to champion your business' success and provide a positive talking point among customers and clients. That's why so many companies enter business awards schemes every year.
We've researched some of the biggest insurance and insurtech-related awards schemes from around the world and ranked them on their official website's domain authority to give you an exhaustive list of the awards programmes that will make a difference – if you win them.
The AXCO Global Insurance Awards claims to "recognise and celebrate the outstanding achievements, innovation and collaboration in the global insurance industry". They are still in their inaugural year – hence why they haven't built up such a prestigious reputation yet and are only in 10th place on our list – but nonetheless, a lot of insurance companies would still walk over hot coals to be named a 'Global Insurance Award winner'. There were 10 different award categories at this year's ceremony, which took place in London.
As their name implies, the National Insurance Awards are a market-specific insurance awards scheme only open to entries from UK businesses. With almost three dozen separate categories, there is no shortage of awards to enter. Winners can claim to be preeminent in their field – "from a commitment to the highest standards in claims, to the delivery of specialist brokerage services up and down the country," the organisers say.
The Global Innovation Awards come with the gravitus of being affiliated with the International Insurance Society, and recognise both traditional insurers and insurtechs who are encouraging positive change within the sector. With an awards ceremony that takes place in Singapore, there are just three exclusive categories to win – meaning that, for winners, there can be only two other companies to achieve the same noteworthy accolade as you in any given year.
The Ambitious Insurer Awards, organised this year in partnership with EIS, are an opportunity "to recognise and celebrate the most ambitious and innovative initiatives" from the world of insurance, organisers say. Open to carriers, re-insurers, brokers and MGAs from all around the world, this particular awards scheme features a panel of distinguished judges representing industry luminaries like Swiss Re, New York Life, Generali and Majesco.
Presented by Wealth and Finance International, the Global Insurance and Risk Management Awards have built up a good head of steam despite only being in their second year of operation. Representing all verticals within the global insurance market, the scheme claims to "showcase businesses who have met [the industry's present] challenges with their innovation and commitment", it is claimed.
The Digital Insurance Awards is a new awards scheme that covers three topics – innovation and transformation among insurers, as well as innovation among insurtechs – with three regional programmes culminating in a global awards ceremony held in December. Entries are shortlisted by a panel of industry experts and last year's event was the seventh time that these awards have been held.
The Insurance Awards, organised by World Finance magazine, is an annual awards ceremony within the insurance industry that runs concurrently alongside similar programmes for digital banking and wealth management. Last year's theme was 'rebuilding for the future' and the scheme awarded prizes in just one category – best general insurance company – but with winners from every country, from the US to Uzbekistan.
Though not technically an awards scheme, this coveted annual ranking of the top 100 insurtech companies – published by FinTech Global – is still a celebration of insurtech innovation. The final list is ranked alphabetically, rather than from 1-100, to avoid giving precedence to companies at the top of the list. In this respect, it is recognition of the entire cohort, who are driving the insurance industry forward, rather than a select few.
The US Insurance Awards "recognise excellence in the commercial insurance and risk management sector" in the United States, with a ceremony held in New York City. But they also serve another purpose: the awards raise money towards fixing the talent gap within the insurance sector, which is estimated at up to 400,000 jobs. Now in its fifth year, there are 10 categories to enter in total.
The Qorus-Accenture Innovation in Insurance Awards have been serving as "a catalyst for innovation in the insurance sector since their inception in 2015", organisers say, benefitting from the big-name recognition that two industry heavyweights lend it. Last year, it attracted almost 400 entrants from 250 institutions in 44 countries, with a grand ceremony taking place in June. The awards are intended to "recognise the most innovative initiatives and ideas in insurance globally".