Top 10 female leaders in the insurance industry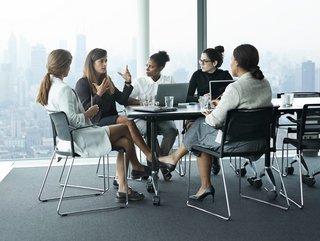 Women in the boardroom: insurance has some great examples of female leaders.
To celebrate International Women's Day, we take a look at the 10 pioneers blazing a trail and setting an example for women in business everywhere
The world of insurance is still a male-dominated one. Despite the progress that has been made in getting more women into the industry, career progression remains limited.
According to McKinsey, though, women account for 45% of entry-level roles in the insurance industry – yet only 18% of C-suite positions. So when you see an influential female leader heading up one of the world's biggest insurance firms, or founding one of the industry's most promising insurtech startups, it gives a brief cause to rejoice.
We've picked out 10 of the most important, influential and inspiring women in the insurance industry today.

Amanda Blanc is the Group CEO of Aviva, the UK's leading insurance business with 18.5mn customers and more than 300 years of insurance heritage. She started her career as a graduate at one of Aviva's ancestor companies, Commercial Union, before rejoining Aviva as CEO in July 2020 after several successful executive roles at Zurich, AXA and Towergate Insurance. Blanc has also previously served as Chair of the Association of British Insurers.
As CEO, Blanc has narrowed Aviva's priorities, successfully divesting eight non-core businesses and challenging the group to focus on its core markets in the UK, Ireland and Canada. Now, she is committed to environmental transformation: Aviva was the first major insurer in the world to target net zero by 2040.
As well as making it to the top of our list, Blanc has been recognised on the Financial Times' list of the 25 most influential women of 2022, as well as being named Sunday Times' business person of the year.
Jennifer Fitzgerald is the CEO and Co-Founder of Policygenius, a US-based online insurance marketplace that allows consumers to find cover including home insurance, life insurance and car insurance. She started the business in 2013 with her business partner Francois de Lame, having previously worked as an Associate Principal for financial services at consulting firm McKinsey.
Since 2013, Policygenius – with Fitzgerald at the helm – has helped over 30mn people shop for insurance, placed over US$150bn in coverage, and raised more than US$275mn from investors. For her successes, Fitzgerald has been named a winner of the Ernst and Young Entrepreneur of the Year award and included in Fast Company's list of 100 Most Creative People in Business.
Pravina Ladva is Chief Digital & Technology Officer for reinsurance giant Swiss Re. A supremely experienced industry executive, she was previously Digital Transformation Officer at Swiss Re; Chief Information Officer and Managing Director of Global Change Management at Barclaycard; and Programme Manager for Abbey. She is passionate about creating a culture for colleagues to be successful, including through the use of technology, and in helping businesses to achieve transformation at pace.
Vicky Wills is Chief Technology Officer at motor insurtech Zego. Wills joined the London-based firm in September 2019, having previously worked as a lead backend engineer for an online fashion marketplace, as well as CTO of home furnishings manufacturer Opendesk. It's a varied career – and she says she occasionally misses writing code – but the cut-and-thrust of a CTO role more than makes up for it.
Few insurtech founders can boast a background in city planning, but that's exactly how Loop Insurance Co-Founder and MIT graduate Carey Anne Nadeau started her career. She spent several years studying cities at the Brookings Institution and Urban Institute, before launching a smart city consulting firm in 2014.
In 2020 came Loop, which uses predictive models alongside real-time driving data to improve car insurance and strip out traditionally discriminatory factors such as credit scores and postal codes.
Laura Hollerich is EY Americas Insurance Distribution and Sales Optimisation Leader. She is an innovative insurance leader with 30 years' experience of driving growth in global commercial and personal insurance.
Based in Chicago, Hollerich joined EY in 2019. Before that, she held senior roles at Accenture, Tave Risk Management (later acquired by Gallagher), Texas-based XL Group and QBE Insurance. She holds a Bachelor of Science in Business and Commerce from the University of Illinois Urbana-Champaign.
Janthana Kaenprakhamroy is the Founder and CEO of insurtech Tapoly, which provides on-demand business insurance for SMEs and freelancers.
Kaenprakhamroy grew up in Thailand, moving with her family to Sweden when she was young before settling in London. After a career in finance – including senior roles at J.P. Morgan, Deutsche Bank and UBS – Kaenprakhamroy noticed a gap in the market when she tried to find commercial insurance to cover her when listing her spare room on Airbnb. That's when Tapoly was born.
For her efforts, Kaenprakhamroy has been named as one of the Top 10 Women Founders to Watch by Forbes and recognised as a leading insurtech female influencer by The Insurance Institute.
Skye Theodorou is CEO and Co-Founder of Australian insurtech Upcover, which offers fast and simple insurance for small business owners. She founded the firm alongside Anish Sinha in 2019, having previously spent two separate stints within Zurich's insurance business based in Sydney.
A qualified lawyer, Theodorou brings a genuine passion for independent business, having worked in her family's businesses from a young age. In November 2022, she was appointed as a Non-Executive Director at Insurtech Australia, the industry association representing the country's insurtech industry.
Carolina Klint is Managing Director, Risk Management Leader, Europe at insurance broker and risk advisor Marsh.
Based in Stockholm, Klint joined Marsh in 2017 as CEO of the Northwest Europe Region after enjoying two spells at AIG – first in Sweden and then in the US, where she rose to become President of AIG's US South Zone, in charge of AIG's commercial business across 11 US states.
She has been named one of The 125 Most Powerful Women in Business by Swedish business magazine Veckans Affarer three years running.
Kate Terry is Co-Founder and COO of Surround Insurance, the Boston-based insurtech that is reinventing age-old insurance products to serve a new generation of consumers. The company provides cover to gig economy workers, renters, car sharers and freelancers.
Prior to founding Surround, Terry spent six-and-a-half years at Liberty Mutual Insurance, and was Product Manager at both Progressive Insurance and Plymouth Rock Assurance.