Nigeria's Gokada partners Octamile to embed insurance in app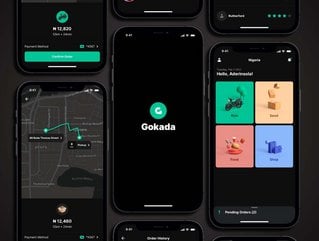 Nigeria's last-mile delivery app Gokada has teamed up with insurtech Octamile to embed insurance products, giving greater protection to riders and clients.
Nigerian delivery app Gokada has partnered with digital insurtech startup Octamile to launch a range of insurance products available within the app.
The partnership will give Gokada riders access to embedded insurance products; it will automate claims processes for goods-in-transit insurance and rider insurance; and it will provide on-demand virtual inspection solutions in the event of a claim or renewal. All of the products are underwritten by top insurers across Nigeria, the firms say.
Gokada is Nigeria's largest last-mile delivery service with a fleet of more than 1,200 trained riders – which they call 'pilots' – helping to deliver parcels, e-commerce orders and food. The firm has already passed US$100mn in annual transaction value, having completed over a million deliveries. It is also in the process of building out a 'super app' for riders and customers to make deliveries quicker and simpler.
Octamile's technology solution is simplifying access to insurance products and services for B2B businesses in Africa. The insurtech startup's solutions include digital insurance management as a standalone product or a bolt-on to existing products and services; automated digital claims, which can detect fraud and provide a seamless experience for both insurers and customers; and a data tech solution that helps improve financing and underwriting decisions for improved profitability.
Greater protection for Gokada's delivery drivers
Octamile Founder and CEO Gbenro Dara says: "We have always said we want to make insurance work for all. Our partnership with Gokada is a testament to our commitment to making insurance accessible to protect the uninsured from financial loss. We recognise Gokada as a leader in Nigeria's last-mile delivery service, which provides an opportunity to deepen insurance penetration in Nigeria and make easy access to the protection that insurance offers in their ecosystem.
"I believe that the work Octamile is doing to build Africa's digital insurance infrastructure across claims automation and distribution with Octamile's embedded insurance APIs will lead to robust growth for the insurance sector across Nigeria and Africa."
And Gokada Chief Operating Officer Oluwaseun Omotoso says: "Gokada's strategic collaboration with Nigeria's digital insurance firm, Octamile, is targeted at ensuring the safety of our pilots who ride around the streets to bring comfort to the lives of Lagosians.
"We consider the health and safety of our pilots a top priority, which is why they are thoroughly trained in addition to the improved health and goods in transit insurance covers from leading insurers [with] which Octamile provides us access seamlessly. Our goal is to have zero casualties among our pilots."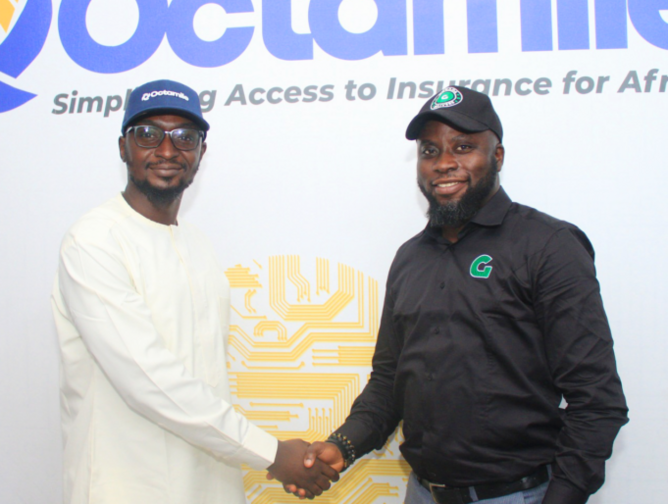 The partnership was sealed by Octamile CEO Gbenro Dara (left) and Gokada COO Oluwaseun Omotoso.
Partnership underlines importance of insurance in Nigeria
The new insurance products will play a valuable role within Gokada's delivery business. Nigeria is Africa's most populous country – but also one of the most volatile regions on the continent. Earlier this month, Gokada increased the amount of insurance coverage for its customers' goods in transit within Lagos State to 600,000 Nigerian naira (US$1,435) in response to the "worsening" security situation in the state.
The country is a frequent target of terrorist attacks including from the terrorist group Boko Haram. According to the US Department of State, muggings, assaults, burglaries, car-jackings and kidnappings "occur regularly" while demonstrations in response to political or economic issues "occur frequently".
Gokada customers are covered against loss or damage to their items while in transit or as the goods are being loaded or unloaded, as well as temporary housing in the event of a delay of goods in transit. Riders also benefit from insurance that indemnifies them against the cost of accidents and general health issues.
At the time Laolu Oloyede, Gokada's head of growth and marketing, said: "We understand the daily challenges of our customers in Lagos and this is why our innovations are customer-centric, aimed at delivering value and enabling a stress-free life."
The company also announced that it would be releasing new features in the next couple of weeks – including cheaper consolidated deliveries, improved digital payment solutions, loyalty bonuses for customers and leveraging its NIPOST licence for intercity logistics.