InsurTech LIVE: the virtual event for every insurtech leader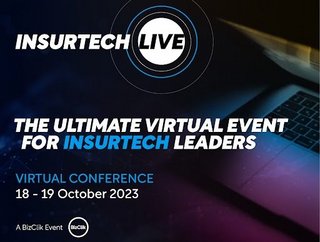 Join us at InsurTech LIVE this October where we discuss digital strategies, climate risk, customer engagement, generative AI and the growing role of women in the insurtech industry
Join the ultimate virtual event for every insurtech leader from 18-19 October 2023, InsurTech LIVE, brought to you by BizClik
Brought to you by BizClik, InsurTech LIVE will stream to global virtual audiences on 18-19 October 2023.
This is the ultimate virtual event for every insurtech leader, featuring innovators paving the way for a more resilient, sustainable and efficient future.
Click HERE to get access to your FREE pass, and join our global audience for this two-day exclusive virtual event delving into the present and future of all things insurtech.
With an impressive lineup of expert keynote speakers, interactive fireside chats, and panel discussions, this event offers a crucial exploration into the disruptive forces shaping our industry.

What's happening at InsurTech LIVE?
Signing up for your free pass will grant you access to a plethora of speakers, across our five key pillars, or themes, of discussion. These include:
Digital Strategies: Join InsurTech LIVE as we delve into innovative technologies used today to drive growth, efficiences, and greater customer experiences across the insurance industry. Today, it is becoming all the more important for insurers to create their own paths, or strategies, towards greater digitisation. We look at ways insurtechs are supporting insurers to best leverage data analytics, automation and artificial intelligence for their specific needs.
Climate Risk: Climate change is an ever-growing factor in some of the most destructive natural catastrophes worldwide. Today, insurers are leveraging satellite imagery, cloud computing and data analytics, innovating climate-related risk pricing for parametric insurers. Join us at InsurTech LIVE to see how insurtechs are driving sustainable development, and enabling insurers to better manage risks while reducing their environmental footprint.
Customer Engagement: Join our select panels and keynote speakers to learn how insurtechs are leveraging technology to enhance the customer experience. Encompassing efficient claims processing, personalised customer communication, and prompt settlement, insurtechs are improving customer engagement for insurers by applying automation, data analytics and AI to streamline the customer experience. InsurTech LIVE takes a deep dive into the latest customer engagement innovations on the market.
Generative AI in InsurTech: As in many global industries, Generative AI is revolutionising the insurance sector with its advanced data analytics and computational capabilities. Join us at InsurTech LIVE as we delve into the specifics of how insurtechs are leveraging AI algorithms to analyse vast amounts of data, detect patterns, predict risks, and automate various insurance processes. We'll be gazing into the future too, looking at ways AI can help evolve insurance for the future.
Women in InsurTech: Join us at InsurTech LIVE where we highlight the achievements of women in insurtech. A community that supports and empowers women professionals in the insurtech industry, Women in InsurTech aims to increase representation, promote diversity, and create a supportive network for women to thrive in this fast-growing sector. Through networking events, mentoring programmes, and educational resources, Women in InsurTech is a platform that helps women advance their careers, develop their skills, and make meaningful connections in the insurtech industry.
Want to become a sponsor?
For the chance to showcase your values products and services to partners and customers alike, click the link HERE to become a sponsor at InsurTech LIVE 2023.
Becoming a sponsor will enable you to:
• Position your business as a pioneer in InsurTech
• Access thousands of potential partners
• Influence businesses at the highest level
You can contact a member of our team today to discuss sponsorship opportunities.
So, what are you waiting for? Click the link HERE to register your interest in InsurTech LIVE, or click HERE to become a sponsor. We look forward to seeing you on the 18th and 19th of October 2023 from our virtual stage.
******
For more insights from InsurTech Digital, you can see our latest edition of the InsurTech Digital here, or you can follow us on LinkedIn and Twitter.
You may also be interested in our sister site, FinTech Magazine, which you can also follow on LinkedIn and Twitter.​​​​​​​

******
BizClik is a global provider of B2B digital media platforms that cover Executive Communities for CEOs, CFOs, CMOs, Sustainability Leaders, Procurement & Supply Chain Leaders, Technology & AI Leaders, Cyber Leaders, FinTech & InsurTech Leaders as well as covering industries such as Manufacturing, Mining, Energy, EV, Construction, Healthcare + Food & Drink.
BizClik – based in London, Dubai, and New York – offers services such as Content Creation, Advertising & Sponsorship Solutions, Webinars & Events.