Consumers 'losing interest' in big-tech insurance offerings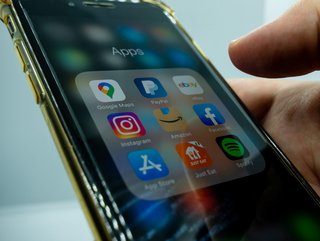 Big tech: would you buy home insurance off big-name brands?
Consumers are losing interest in having home insurance provided to them by big-tech companies, according to market research firm GlobalData
Consumers are losing interest in having insurance provided to them by big-tech companies like Amazon and Google, according to a new consumer survey from GlobalData.
The market research company asked more than 4,000 UK-based consumers about whether they would consider purchasing home insurance from a range of big-name 'alternative providers' – including tech companies, social media platforms and energy providers.
There was a marked drop-off in interest across all the companies GlobalData asked about, with consumers on average three percentage points less likely to consider purchasing insurance from an alternative provider. The steepest decline in interest was consumers purchasing home insurance from their energy provider, which scored over five percentage points lower than the same survey last year; high energy prices caused in part by Russia's invasion of Ukraine have hiked up the cost of energy bills and created a rift between consumers and their energy providers.
The best-performing company is Google, with more than a fifth of respondents (22.2%) saying they would consider purchasing home insurance from the search giant. 16.7% of respondents say they would buy home insurance from Amazon (down three percentage points on last year) while just 11.5% would consider Apple (over two percentage points lower than 2021's survey).

Would you buy home insurance off big-tech companies?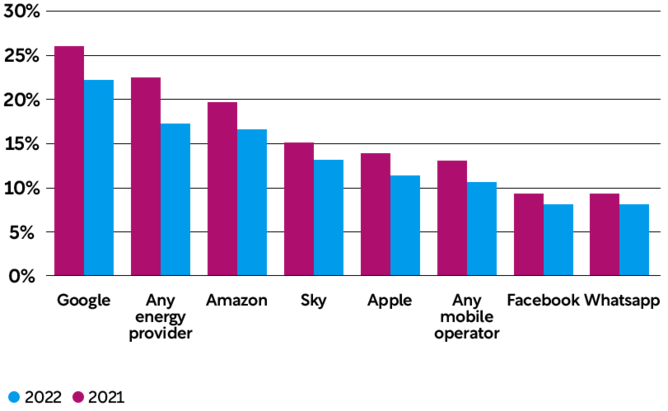 Source: GlobalData
The threat from big-tech firms is still present

The research appears to show that, even in the midst of an embedded insurance boom, consumers are becoming more hesitant about buying insurance from big-name tech brands – even those brands that they already trust to make their mobile phone or supply their home broadband. Two of the brands assessed by GlobalData – Amazon and Sky – have already made forays into the insurance market, Amazon launching its Amazon Insurance Store in October 2022 and Sky moving into the home insurance market in December.
In challenging economic times, it may even put a dampener on some of these brands' aspirations within the financial services industry. Last June, FinTech Magazine asked whether Pay Later, Apple's latest offering, threatens the BNPL segment as we know it.

Ben Carey-Evans, Senior Insurance Analyst at GlobalData, comments: "Although reduced consumer interest in these alternative providers is clear, it still remains a significant threat to the home insurance industry. The greatest threat across the industry as a whole may be embedded insurance. While it is less of a threat within home insurance specifically, product manufacturers (such as mobile providers or car manufacturers) offering insurance at the point of sale offers convenience to customers, so it is a growing trend to watch.
"Therefore, a slight reduction in consumer interest does not mean the threat from big technology providers is waning, as recent developments suggest the opposite is happening. Insurers will be buoyed by what appears to be reduced consumer trust for these potential rivals. However, they will need to ensure they can provide a strong digital offering, as that will be guaranteed from any of these potential threats."

Big tech should look towards embedded insurance

Quentin Colmant, CEO and Co-Founder of embedded insurance pioneer Qover, believes that there is still an opportunity for big-tech players because embedded insurance is still inherently useful to the consumer.

Colmant says that firms like Amazon, Google and Apple should look towards the success of embedded insurance companies when attempting to move into new markets like insurance: "Today's consumers are expecting so much more from the tools they use. And with their unparalleled access to data, big tech companies have the power to offer incredibly relevant, personalised and seamless insurance experiences to their user base.

"After all, the name of the game is and will remain users, and when done right, insurance is a powerful driver of the user behaviours that enable businesses to stay ahead of the game.

"By embedding insurance products into their digital channels, big tech companies can actively engage customers along the entire lifecycle and incentivise them to use their services more frequently and for longer periods."