Arch Insurance acquires US small business insurtech Thimble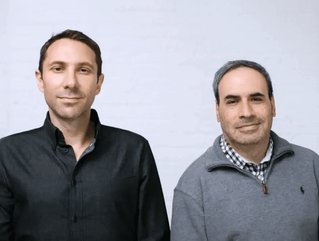 Thimble was founded in 2016 by Jay Bregman (left) and Eugene Hertz.
Arch Insurance is acquiring US-based insurtech Thimble, which offers flexible insurance coverage to a broad church of small businesses and contractors
US-based Arch Insurance is acquiring small business insurtech Thimble, which provides flexible insurance for small firms and tradesmen including contractors, landscapers and creative professionals.
Based in New York, Thimble makes it easier for businesses to take out insurance coverage by the job, month or year. It has delivered more than 170,000 policies to small businesses across the US since May 2018, during which time it has also raised more than US$25mn in funding.
Arch Insurance says the deal will expand its suite of digital solutions for small business customers and brokers. Arch Insurance's parent company, Arch Capital Group, is a publicly listed Bermuda exempted company with approximately $15.6bn in capital and part of the S&P 500 Index.
Arch 'acquiring a best-in-class digital insurer'
Jay Rajendra, Arch Insurance's Chief Strategy and Innovation Officer, says: "At Arch, we're always looking to expand our digital solutions and create new, easy ways to do business with us. Thimble makes insurance easy. The Thimble team has created a best-in-class digital experience for small business customers and agents to acquire and manage insurance.
"We're excited about growing the Thimble platform and applying many of its digital practices across Arch to better serve our partners."
Jay Bregman, Co-Founder of Thimble, adds: "We are delighted to join the Arch family. The entire Thimble team is looking forward to working with Arch and our existing carrier partners to grow the platform. I'm equally excited to see how our team's digital experience can benefit Arch and its distribution partners."
Thimble has come a long way since it was founded by Bregman and fellow co-founder Eugene Hertz in 2016. The company was initially conceived to provide one-day drone insurance for drone operators and was named Verifly. But driven by demand for their 'insurance when you need it' proposition, they soon expanded into other areas and renamed the business Thimble.
It now offers a full range of coverages by the job, month or year for over 300 types of small businesses – including contractors and handymen, photographers, event organisers, personal trainers, retail stores and restaurants.