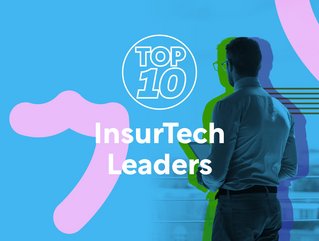 Top 10: US insurtech leaders
Insurtech Digital looks at the Top 10 insurtech leaders in the US as of 2023
As the growth of the insurtech industry continues at a rapid pace – with a compound annual growth rate (CAGR) of 52.7% forecast between 2023 and 2030 – InsurTech Digital takes a look at some of the industry's prominent current and former insurtech leaders throughout the US.
10: Sean Harper, CEO & Co-Founder, Kin Insurance
Sean Harper is the CEO and Co-Founder of Kin Insurance, an insurtech that aims to simplify the process of attaining home insurance, making it more affordable in high-risk areas prone to severe weather. Kin was conceived after Harper recognised that the home insurance sector still relied on outdated practices, including local broker distribution, legacy IT systems and physical paperwork. Attempting to innovate the home insurance industry, Kin Insurance has raised US$410.2m since Harper co-founded it in 2016. Today, Harper is supported by a team of over 100 professionals, prioritising customer service, intelligent coverage options and the promotion of insurance literacy.
9: Daniel Schreiber, Co-Founder & CEO, Lemonade
The Co-Founder and CEO of Lemonade, Daniel Schreiber, has helped revolutionise the insurance landscape by leveraging AI and behavioural economics to offer fast underwriting and pricing for renters, homeowners, car and pet insurance.
Lemonade has raised a total of $481m since its founding in 2015, paving the way for insurtechs to seek market gaps and challenge legacy institutions under Screiber's innovative leadership. With a background in the technology sector after founding Powermat Technologies, Schreiber made a name for himself by harnessing the power of wireless charging technology. Focused on social responsibility, Schreiber is also involved in several philanthropic initiatives.
8: John Clark Higgins, Co-Founder & CEO, Steady Technologies
John Clark Higgins is the Co-Founder and CEO of insurtech Steady Technologies, a company that has raised $506m since its founding in 2017. Steady Technologies offers a suite of tailored financial and insurance products designed to reduce the risk for property managers' generating ancillary revenues. Prior to launching Steady Technologies, Higgins founded Nobadeer Advisors, a company that provides business development, corporate strategy and capital markets expertise. Higgins' career has also seen him take the positions of Director of Strategic Partnerships at Prosper Marketplace, Director at Topwater Capital Partners and Director of Investor Relations at Doubloon Capital.
Named Mid-Atlantic Entrepreneur of the Year for 2020, Swigart has been responsible for overseeing the insurtech since its founding in May 2017. Based in Washington DC, Pie Insurance is in the top 5% of surrounding companies and the top 5% of similar-sized companies in the US capital. Before picking up the mantle as Pie's CEO, Swigart served on the executive team of Esurance for 13 years, leading financial functions before becoming the company's CMO. With a deep understanding of current trends, Swigart has been in charge to see a total of $615m invested into the company. The insurtech provides workers' compensation insurance exclusively to small businesses.
6: Max Simkoff, CEO, Doma
Max Simkoff is the CEO of San Francisco-based Doma, an insurtech designed to drive solutions that instantly close mortgages. Initially founded as States Title, the company was designed to instantly underwrite title insurance before expanding to handle all aspects of closing and escrow. The insurtech became Doma after a merger with special purpose acquisition company (SPAC) Capitol Investment Corp took the company public in a deal valued at $3bn. Prior to Doma, Smikoff was Founder and CEO of Evolv, an enterprise predictive analytics software company, which went on to be acquired by Cornerstone. Under Simkoff's leadership, Doma has raised a total of $679m.
Ali Diab serves as the Co-Founder and CEO of Collective Health, a globally recognised platform for administering employer health benefit plans. With over 25 years of expertise in spearheading technology organisations in rapid growth phases, Diab has established himself as a prominent figure in the industry.
Prior to co-founding Collective Health, he held the position of VP of Product Management and Business Operations at AdMob, a subsidiary of Google. Diab has also held executive and management roles at renowned companies such as Goldman Sachs, Microsoft and Yahoo!. Today, Collective Health has raised a total of $719m.
4: Alex Timm, Co-Founder & CEO, Root Insurance
As the Co-Founder and CEO of Root Insurance, Alex Timm has contributed to the disruption of traditional insurance models by leveraging innovative technology and data analytics. Under his guidance, Root Insurance has become a prominent name in the insurtech sector, offering personalised auto insurance rates based on individual driving behaviour. Timm has also helped Root Insurance expand its embedded insurance offerings through strategic partnerships. Headquartered in Ohio, the insurtech has raised $827.5m since its founding. In June 2021, Timm released a report detailing how fatherhood has helped change his leadership approach.
3: Guy Goldstein, Co-Founder & CEO, NEXT Insurance
Founding NEXT Insurance in 2016, Guy Goldstein was a national finalist at the Entrepreneur of the Year awards for 2022 for his leadership of the company, which has raised US$881m to date. With a one-stop-shop platform that leverages AI technology, NEXT Insurance now serves over 1,300 classes of business, including restaurant owners, accounts, fitness professionals and general contractors.
Under Goldstein's leadership, NEXT Insurance received an 'A-Excellent' rating from AM Best, reimagining the servicing process for providing SME insurance to make policy offers bespoke to each organisation. With over 20 years of industry experience, Goldstein has previously served as CEO of mobile payment company Check, as well as in executive positions in corporate development.
Founding Hippo Insurance alongside Eyal Navon back in 2015, Assaf Wand's insurtech has since made a name for itself as a company that covers the homes and possessions of policyholders, as well as liability from accidents in insured properties, via AI and data to price policies.
Coming from a background in finance, Wand says he has a passion for revolutionising antiquated industries, recognising the need for a simplified home insurance experience. Under Wand's guidance, Hippo has gained recognition for its smart home coverage, leveraging data and analytics to provide proactive protection for homeowners. Since its founding, Hippo Insurance has raised a total of $1.3bn.
The company's current CEO is Rick McCarthon, after Wand took up the position of Executive Chairperson in October 2022. Despite stepping back, Wand has shown that he continues to inspire and reshape the industry as a whole by driving significant investment in Hippo Insurance.
1: Mario Schlosser Co-Founder & former CEO, Oscar Health
Mario Schlosser founded Oscar Health alongside his classmates at Harvard Business School, Josh Kushner and Kevin Nazemi. Since being founded in 2012, Oscar Health has raised a total of US$1.6bn, with lead investment coming from its parent company Thrive Partners III, owned by Jared and Joshua Kushner – Jared Kushner rose to fame as the son-in-law of former US President Donald Trump.
Recently, Schlosser stepped down as CEO of Oscar Health to be replaced by former Aetna executive Mark Bertolini. Nevertheless, during his time as CEO, Schlosser oversaw the company's expanded membership from 16,000 members in its first year of operations to over 1.1m members by 2020. Schlosser has helped reimagine healthcare insurance by leveraging technology and data analytics, helping create Oscar Health's user-friendly platform that simplifies the insurance experience.