The Ultimate FinTech & InsurTech LIVE Event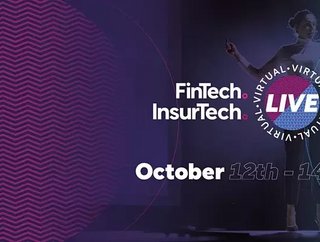 Fintech and Insurtech magazines bring you the virtual conference that can't be missed, streaming live from London
From October 12th-14th, 2021, BizClik's FinTech & InsurTech live event will bring together influential executives from around the world. Live from London, this three-day event will be an excellent way to finish the year strong, gaining the confidence your company needs to move forward into the future. 
With keynote addresses from global leaders, dynamic roundtable discussions, and extensive networking opportunities, FinTech & InsurTech live will expand your network, deliver insight, and enhance your organisation's reach. Events include a forum on financial services, discussions centred on racial equality and women in fintech, and APAC, EMEA, and US-focused sessions that capture insights from around the world.  
The event will include:
Keynote addresses from respected industry leaders

Dynamic live roundtables (inc. Q&A)

Fireside discussions

Inspirational Speakers & Presentations

Extensive networking opportunities
Scope Out the Agenda 
This week, we'll share our weekend schedule of events, filled with essential industry topics and keynotes replete with knowledge and insight. Here's a rundown of the three-day schedule: 
Tuesday
October 12th 
Kicking off at 10 AM with a welcome message from our CEO Glen White, the first day of FinTech and InsurTech Live won't pull any punches. We discuss racial equality, inventive financial services, and cloud migration—and that's just the morning lineup. 
Later on, we'll cover supplier diversity, AI digital transformation, and fintech sustainability, in addition to cloud and digital transformation in global insurance. Don't worry—we have a networking lunch in-between events! Finally, we'll close out the day with online banking, women in fintech, and a recap of Day 1. 
Wednesday
October 13th
First we'll hear from Scott Birch, our expert BizClik Media Editorial Director and facilitator, live from the Fintech Leaders Stage. We then jump into the future of digital payments, unicorns, and digital insurance brokers. Interested in learning more about digital underwriting and digital payment solutions? You've come to the right place. 
In the afternoon, we'll touch on CX in insurance, host a forum on financial services, and discuss what the world might look like as a cashless society, plus the future of challenger and neo banks. Wrapping up, we'll talk tech and AI in insurance, PayTech, and hear from a surprise inspirational speaker. But we're not done yet. 
Thursday
October 14th
As is only fitting, BizClik's CEO, Glen White, will introduce our APAC sessions, highlighting the critical role that Asia will play in the future of fintech and insurance. Following his remarks, we'll open up the floor for a chat about digital banking, discuss technology in APAC, and hear from Dipu KV in an iconic keynote address. 
After a series of thought leaders and networking sessions, we'll head into an EMEA-focused session, which includes an EMEA technology panel, a CDO keynote, and a Europe enterprise presentation. In fact, this day's events span the globe. Next up is a USA regional keynote, followed by a US CIO presentation and talks about enterprise. 
A final end-of-event farewell will close out the weekend, wrapping up a successful FinTech and InsurTech global event. Can't miss it. We look forward to seeing you there!