Singapore insurtech Surer raises US$1mn in seed round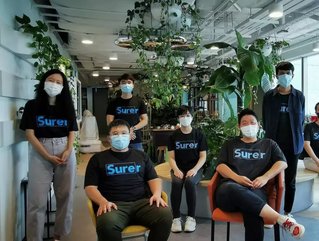 Surer, an insurtech based in Singapore, has raised US$1mn in a funding round led by Norwegian private investment form Kistefos
Singapore-based insurtech Surer has raised US$1mn in a seed round of funding from Norwegian private investment company, Kistefos. Other participants in the round included global specialist insurer Markel Corporation through its insurtech investing arm, Markel Digital Investments, as well as an angel investor. Antler, a global early-stage venture capital firm, also invested in Surer in an earlier round.
Gordon Tay, Co-founder of Surer, said: "We are pleased to have strong investors on board who share our vision to solve the problem of a huge mismatch in demand and supply in a US$1.7 trillion dollar general insurance industry. With the new funds, we believe Surer can further capitalise on our unique position to build a fully connected digital ecosystem that drives a 'triple-win' situation where policyholders can be served with greater quality because of a highly efficient intermediary sales force that can now scale their business without impediments which ultimately delivers more business for Insurers. 
"This digital ecosystem will eventually include merchants who wish to package insurance with the products they are selling. Kistefos has a strong track record and understanding of support for its portfolio companies while the commitment of an influential industry player like Markel confirms the potential of our business and solution," he added.
How will Surer use the funding round?
According to the insurtech, Surer intends to use the funds to bolster its core technology platform and invest in its tech team to deliver on its product roadmap. The company was recently ranked among the top 3 companies for 'Insurtech of the Year' at the '6th Asia Trusted Life Agents & Advisers Award' and is certified by the Singapore FinTech Association as an Insurtech service provider.
Bengt Rem, CEO of Kistefos, said: "Kistefos has a strong investment portfolio in Norway and Europe, including companies delivering financial services. We are seeing a huge potential in Asian markets, and Surer has shown the ability to capitalise on the trend of digital transformation in the insurance industry in the region."
Since its launch, Surer has seen strong traction with over 350 intermediary signups and demo requests, more than 1,000 insurance proposals sent, and over S$1.2mn in gross written premiums (GWP) transacted on Surer. It expects to see the GWP transacted on its platform to cross the S$2mn mark by the end of 2021.