OKO secures US$1.2m seed funding for African farm insurance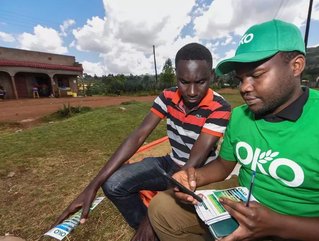 Malian insurtech OKO has raised $1.2m in seed money for the development of its smallholder farm insurance platform in Africa...
The 's round was co-led by and ResiliAnce, with additional investment from , , and RaSa.
Currently operating in both Mali and Uganda, OKO's mission is to ensure smallholder farmers have access to effective and affordable insurance. Using mobile technology, the startup is encouraging financial inclusion within emerging economies through that require no upfront investment and optimise existing tech infrastructure.
OKO has that it will use the seed money to fortify its presence within existing markets, as well as expanding into new areas starting with the Ivory Coast.
Modernising African insurance
According to Simon Schwall, Founder of OKO, the importance of farm insurance in Africa cannot be overemphasised, "Agriculture is by far the largest source of occupation in Africa, with an estimated 33 million farms. 
"And yet, farmers are deprived of basic financial services like insurance and loans. We are using technology to solve this issue and secure the income of those farmers."
Having accumulated 7,000 paying customers since it was founded in 2017, it seems that the development of specific technologies and their applicability to the insurance industry has precipitated OKO's encouraging fundraising result.
"We believe recent advancement in IoT and data availability will lead to the rise of parametric insurance in Africa for the benefit of the local populations," explained Augustin Sayer, Partner at Newfund. "Simon and his team have built solid bases in Mali from which OKO can now expand in new countries and offer new insurance products." 
Innovating past the competition
Other companies, notably in Kenya, which closed a $6m Series A round in January 2021, have recognised the potential for insurtech to be a force for good in the lives of African farmers.
What separates OKO from competitors, claims Daniel Block from Mercy Corps Ventures, is its ability to leverage partnerships and technology to create innovative and inclusive services.
"While other micro-insurance for farmers exist, we were impressed by OKO's ability to partner with a pan-African operator like and establish a direct consumer link, which allows for an exciting opportunity to drive deeper user engagement and expand to a suite of insurance products for rural farmers in the future." 
Image source: OKO