Lemonade reaches 'one million customers' milestone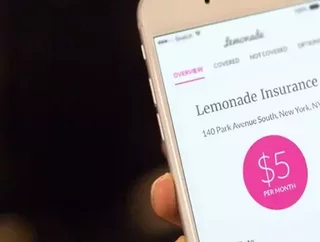 Disruptive insurtech hits one million customers target after just four years of operations...
The disruptive insurtech has announced its fourth-quarter financial results, which reveal the company has reached the one million customers milestone in under five years.
The swiftly growing company that emerged as one of the most successful IPOs of 2020 and recently launched its life insurance products, shared the information in a release of last year's financial results.
The company confirmed, in a typically layman's terms manner, that despite some ups and downs in their four-year journey, where they had attempted to, "walk and chew gum at the same time", they have now reached a point where they can now move forward "without too much drama".
Lemonade's investments have risen significantly, reflecting the company's market confidence. Funds hit $578m in December 2020, up from $330m in December 2019.
Lemonade's disruptive philosophy
As one of the globally, Lemonade's approach to business has taken a customer-centric approach. The company's AI-powered platform uses behavioural economics to replace brokers and bureaucracy with bots and machine learning.
These solutions, which have created a zero-paper, instant response service, have been coupled with the insurtech's social programmes. A Certified B-Corp, Lemonade gives unused premiums to nonprofits selected by its community, which have included tree-planting projects, providing healthcare and others.
The company underwent a drastic transition last year, at the time of the company's IPO, moving from a monoline business to a company that now provides three types of insurance, namely (P&C, term life and pet health cover, term life. According to reports, more products are due to be unveiled soon. Lemonade has also diversified its combination of new business over a wider suite of products, as well as expanding coverage for their existing customers.
"In parallel to this significant expansion of our product roster, we grew our core business dramatically while improving our underlying economics, all while turning on new countries and states," Lemonade said in an official statement.
It continued, "In force premium ("IFP") increased 87% year-on-year, to $213 million. We concluded 2020 with over one million customers, a milestone reached after just four years in business. It took USAA 47 years. This 5-10X acceleration – relative to the biggest and best incumbents – emboldens us to lean in to the opportunities we've identified."
The company's executives also noted that 2020 concluded with a premium per customer of $213 - which is a 20% increase year-on-year and marks Lemonade's sequential quarter of accelerating growth.