Lemonade introduces pet insurance for cats and dogs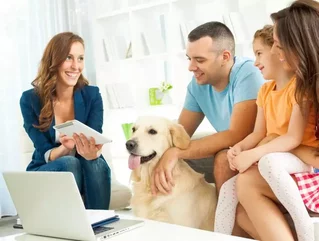 Insurtech unicorn Lemonade has released details of its new, characteristically digital and streamlined pet insurance coverage in the US...
Insurtech unicorn has of its new, characteristically digital and streamlined pet insurance coverage in the US.
Having built a reputation in the insurance sector by offering exceptionally fast, intuitive and well-priced services underpinned by superior customer service, artificial intelligence (AI) and behavioural economics, Lemonade's foray into pet-based policies is likely to be well-received by consumers.
Currently available in 33 US states, the company has become a darling of the insurance sector and a popular favourite with users: it has 4.9/5 on both the App store and Google Play and top ratings from price comparison websites and .
Creating perfect pet insurance
"Creating the dream pet health insurance from scratch has been a journey in design, customer experience and empathy," said Shai Wininger, COO and Co-Founder of Lemonade. 
"As pet parents ourselves, we found the existing options to be lacking, so we built a product for cats and dogs from the ground up. This means an insurance policy that's short and easy to understand and a user experience created with the pet and their parent at its core. We're excited to make pet health insurance so affordable and accessible."
With prices starting at USD$12 per month (with a 10% discount available if the policyholder also has home insurance via Lemonade), customers will receive the following coverage for their animal:
Diagnostics
Procedures
Medication
Accidents
Illness
Additionally, they can expect significant savings on regular medical expenditures, such as physical checkups, worming, vaccinations and more.
Finding a gap in the market
Daniel Schreiber, CEO and Co-Founder, stated that, in a valuable market which has ample room for improvement through the brand of tech-based efficiency Lemonade has become famous for, the company has spotted a great opportunity:
"The US pet insurance market is valued at a couple of billion dollars and with the increasing number of pet adoptions coupled with rising veterinary costs we believe this market can grow rapidly.
"Lemonade's unique take on pet health insurance couldn't be easier or faster. This includes getting claims paid in seconds, accessing preventative care, receiving live health and wellness recommendations and supporting animal non-profits, all from the comfort of your phone. Few insurers offer any of these features, and none offers them all," he said.