Investigating insurance claims: A drone's point of view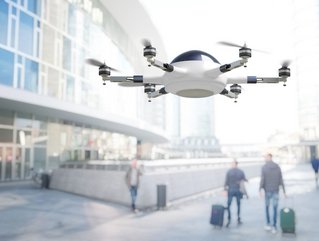 Mike Hughes, VP Product Marketing at FintechOS, discusses the impact and changes taking place in the drone insurance space
Having progressed from the early days, when drone use might have seemed limited and gimmicky, unmanned aerial vehicles (UAVs) are becoming increasingly valuable and efficient tools. According to the US Federal Aviation Administration (FAA), there are more than 314,000 commercial drones in the US, 17% of which are used for insurance purposes.
That's considerably more than in the UK currently, but this is set to rise significantly. PWC predicts more than 70,000 commercial drones will fly over UK skies in 2030, of which around 2,500 will be for insurance.
It's not surprising, therefore, that the first adopters of drones in the industry were largely American firms, such as Allstate, Erie Insurance, Farmers Insurance, Liberty Mutual, and Travelers. So, what are drones being used for? And why are they so crucial for the property insurance industry?
Drones for day-to-day claims investigations
Broadly speaking, drones are helping to mitigate risks by improving data harvesting and analytics while cutting operational costs by providing better accuracy in inquiry processing and delivering customer satisfaction. Efficient data gathering is a crucial exercise for competitive, agile underwriters.
When it comes to claims investigations, drones can capture thermal imaging and detect details such as moisture trapped in roofs. They can also produce 3D models. Specifically, property insurance companies are finding benefits of drone insurtech in the following areas; inspection, risk assessment, claims adjustment, fraud prevention, risk pricing and natural disaster monitoring.
The insurance industry uses drones to assess risks, monitor damage, and interrogate claims from the typical roof to tall, dangerous structures or remote and hard-to-access assets. Underwriters have deployed drones to examine commercial and residential roofs since 2015. Flawed and deteriorating roofs can often lead to further damage and more claims. So, insurers want to know whether roof quality is adequate. Poor quality roofs are riskier for property insurance companies and carry higher premiums. Claims for roof damage are quite common and require a claims inspector to survey the damage.
In the past, this usually involved physically climbing onto the roof. This has presented safety risks to the inspector or incurs a cost when bringing in equipment like a cherry picker, making the process more time-consuming and expensive.
As the profession has grown more confident in insurtech, drones are increasingly used beyond the leaky roof scenario.
Drone usage for natural disasters
Drone inspections take a fraction of the time compared to manual ones, 10-times faster according to CBInsights. This makes it easier for insurers to determine accumulated and major losses following a peak event.
For example, when it comes to natural disasters, there's no time to waste when policyholders expect insurers to deliver on their pledge. In large disaster zones, accessing damage is a challenging and sometimes dangerous pursuit, and often thousands of claims are put on hold, causing dissatisfaction for customers.
Deploying drones can dramatically reduce the time for processing claims. A single drone operator can feed data to multiple adjusters with accurate and precise information. In the wake of Hurricane Irma on the island of St Martin, for example, 300 buildings were mapped by drones in 10 days.
Pre-loss deployment and anti-fraud
Insurers are also using drone tech to assess risk before a loss occurs. A drone flyby of a property or area allows for more-accurate risk analysis and personalized premiums.
Day-to-day, this will involve taking note of roofs and chimneys in need of maintenance at personal properties. Various features of a home that otherwise looks sound could well be hiding issues that will need immediate resolution. A simple and safe way to assess the property from above will avoid such problems.
Larger scale, however, drones can be used to assess the layout of an area, identifying risks for flooding, fire spreading, or even coastal erosion. This not only prepares the insurers risk assessment but can also identify fraudulent claims. A customer with a deteriorating, leaky roof before a hurricane may later claim that the storm damaged it and, therefore, an insurable event caused the leaks.
Having a clear picture of the state of the property before and after an event can help insurers separate false claims from genuine ones.
The limitations of using drones for property insurance
There are some limitations to consider. Various nations have specific laws regarding the use of drones commercially and understanding these is essential.
In many places, technology and data protection legislation don't permit large-scale data collection. There are also exclusion zones, such as near airports or where police or emergency services are operating. In the UK, for example, to use drones for insurance, an operator must be a Civil Aviation Authority-approved drone pilot. This requires both a written and practical flight test and ensures that the operator understands the laws controlling the use of drones.
For this reason, drones are commonly operated by service providers with specialist expertise that can conduct challenging operations with UAVs that work with the latest insurtech.
Fly me to the future of insurtech
Like most technology in the modern age, drones go hand-in-hand with data. Not only does using drones require you to coordinate where the drone flies and what it takes images of, but those images also need to be processed, analysed, and documented.
Managing that amount of data on a large scale requires robotic process automation (RPA) and artificial intelligence (AI) tools, but those innovations can also bring further benefits.
Eventually, the accumulated data could provide better catastrophe models with a better degree of regional detail than is currently possible with satellite data. The claims handling process will also be simplified and faster, reducing costs and improving customer satisfaction due to slicker decision-making processes.
Ultimately, drone insurtech will only improve, and the regulatory framework will develop to benefit commercial use. The real value, however, will be storing, processing, and analysing all the valuable data it can capture.
About the author: Mike Hughes, VP Product Marketing at FintechOS. He says, "I am a computer programmer "geek" who spent the first half of his career delivering services projects across a wide variety of technologies (including 12 years at James Martin + co, an early code generation pioneer!). The second half of my career has been spent with product companies and includes roles across sales, pre-sales, sales enablement, and marketing. I spent six years at OutSystems where I built out the product marketing function, and helped establish OutSystems as a low-code market leader."