Insurtech Cachet raises US$5.7mn in its Latest Funding Drive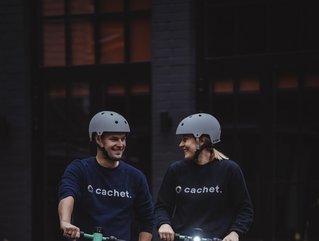 Estonian insurtech Cachet will use the funding to expand its services to gig economy workers across Europe and the UK
Cachet has raised US$5.7mn in its latest funding drive in a move that will finance the company's expansion strategy.

The Tallinn-based digital insurer generated the capital from a number of investors including Truffle Capital, with Uniqa Ventures and previous round lead Icebreaker.vc also participating.
Cachet provides solutions for the growing platform economy workforce, which will account for one out of five economically active citizens in the EU by 2025. Data shows that traditional insurers struggle to deal with platform work's unique needs, such as ride-hailing drivers that work across different platforms like Bolt and Uber. This makes worker protection complicated and expensive to buy.
However, Cachet solves the problem of a platform worker's employment-related data being spread across multiple platforms by aggregating the data across platforms, by building a better picture of worker employment patterns. The provider then enables insurers to create fair and flexible insurance policies and cut the costs for workers.
The gig economy is a growing sector for insurtechs
According to reports, the European Commission's projections show that by 2025, one in five economically active EU citizens will work a platform job. Technology companies such as Bolt, Deliveroo, and Wolt have enabled this trend, making them some of Europe's fastest-growing companies.
Cachet's technology-driven platform provides tailored motor insurance and delivery rider insurance cover for gig workers, giving them protection across multiple platforms and allowing them to earn more as they work. Data shows that in Estonia, Bolt or Uber drivers can save an average of 50% on their motor insurance using the company's policy.
The digital insurer has a robust reputation in the marketplace and Cachet is trusted by more than 12 insurance underwriters with leading carriers like Allianz, PZU and VIG Group.
Cachet has a robust, market reputation
Speaking about the new funding, Hedi Mardisoo, co-founder and CEO of Cachet, explained, "Even though the platform economy has made companies like Deliveroo and Bolt some of Europe's fastest-growing companies, it has been accompanied by a heated debate about workers' rights.
"We have been involved in EU-level discussions to regulate platform work and there's an impulse to solve problems by reclassifying platform workers as employees. But using old thinking to solve new problems is likely to result in the baby getting thrown out with the bathwater.
"Instead, we think that we can use technology to fix problems partly caused by technology. This way, we can keep the flexibility and freedom of the platform work ecosystem, while putting the gig worker back in the driver's seat."
Meanwhile, Bernard-Louis Roques, co-founder and CEO of Truffle Capital, described the strategy of Cachet as a 'clear, long-term vision. He said, "Freelancers are the driving force of the new economy. Cachet has developed impressive data capabilities, with unique data assets, data platform and data science resources, which enable it to treat each and every freelancer individually, and at the same time minimise the risk ratio for its insurance partners, making it a rising force in one of the most dynamic insurtech market."