Farmers increases insurance eligibility for wildfire areas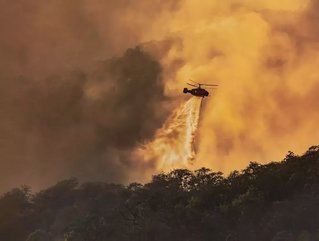 Farmers Insurance is increasing the eligibility of home insurance for wildfire areas in California by adopting new Zesty.ai technology
Farmers Insurance has today announced that it has adopted innovative technology created by Zesty.ai to increase home insurance eligibility in high wildfire areas following approval from the California Department of Insurance (CDI). The company says it will be introducing an "innovative approach" to help manage its US wildfire exposure as it assesses wildfire risks to homes in California. 
"Farmers is excited to be a leader in helping to address the state's complex homeowners insurance marketplace by introducing a new approach to underwriting risks and using  Zesty.ai's innovative new technology, the Z-FIRE™ scoring model, to supplement our existing processes," said Keith Daly, President of Personal Lines for Farmers Insurance. 
"We want to thank Insurance Commissioner Ricardo Lara and his team for their willingness to give us the opportunity to introduce advanced technologies to help meet the needs of California's consumers", Daly added. 
Leveraging high-resolution imagery, Zesty.ai's Z-FIRE risk scoring model is a proprietary predictive risk evaluation platform that uses artificial intelligence to identify property attributes impacting the level of a property's wildfire risk. 
Chief Executive Officer and Founder of Zesty.ai, Attila Toth, said: "Zesty.ai's work with Farmers to successfully implement the latest AI technology to accurately assess the risk of wildfires is another step forward in managing a problem that has claimed 194 lives and drove US$57bn in economic losses over the past five years in California.
"We are proud that this partnership expands access to essential insurance coverage for many Californians to help protect their livelihoods and communities from natural disasters", he said. 
Daly added: "We remain committed to working with Commissioner Lara, consumers, and other stakeholders to do our part to help make the insurance marketplace in California stronger and more resilient. At Farmers, we understand innovation is key to meeting the needs of consumers' evolving expectations and to our ability to deliver maximum value to our customers". 
Wildfire facts 
Below are some facts about wildfires courtesy of the National History Museum of Utah. 
Lightning strikes the Earth over 100,000 times a day. Of these, 10-20% cause a fire.  

Man-made causes such as arson or plain carelessness (like smoking in forested areas or improperly extinguishing campfires) by individuals is the biggest cause of wildfires in the U.S.  

More than four out of every five wildfires are caused by people.  

An average of 1.2 million acres of U.S. woodland burns every year.  

A large wildfire, or conflagration, is often capable of modifying the local weather conditions or producing "its own weather". 

 Lodgepole pines and their closely related jack pines have cones that release their seeds only when they are opened by fire.  

Naturally occurring fires, as well as controlled burns, clear out underbrush and help prevent even greater wildfires.  

Many animals in the food chain benefit when patches of forest are transformed by wildfires into clearings.  

Forest fires move faster uphill than downhill. The steeper the slope, the faster the fire travels.