How AI is helping P&C carriers enhance nat cat resilience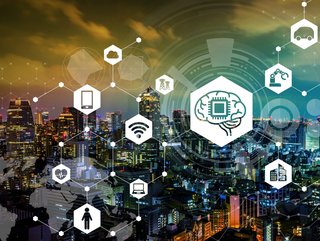 Briana Brown discusses how AI helps P&C carriers with nat cat resilience
AI-powered geospatial data gives insurers the tools needed to adapt to a changing climate, as Ecopia AI's Briana Brown explains
Climate change is one of the most pressing challenges facing society today - a fact property and casualty (P&C) insurers know all too well. While the changing climate impacts every industry in some way, P&C carriers must pay particular attention as they manage the resilience of their portfolios and help customers protect their properties.
Enhancing climate resiliency and effectively managing portfolio risk are never easy, but these challenges take on new layers of complexity with the increasing occurrence of climate events in the US. According to the National Oceanic and Atmospheric Administration (NOAA), 18 separate climate or weather events costing at least $1B in damages occurred in the US throughout 2022. For historical context, that's double the amount of natural catastrophe (nat cat) events that occurred in 2009 and six times that in 1980.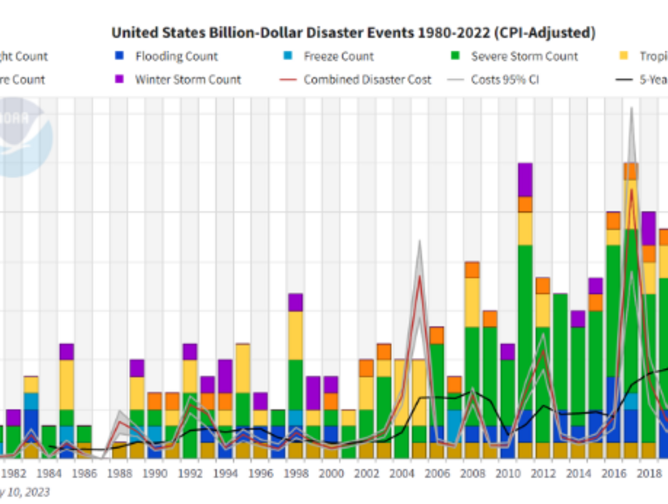 Nat Cats are increasing in frequency and intensity, making accurate data both more essential and more challenging to maintain for insurers. Source: NOAA
Not surprisingly, a study by McKinsey and SwissRe showed that this increase in severity and frequency of nat cats has caused P&C insurance rates to rise in 2022; in Florida, for example, the reinsurance rate for property catastrophes increased by 25%. But while premiums for both customers and insurers themselves are rising, the global nat cat protection gap is estimated to be between $130-140M. This is largely due to how quickly and drastically the climate is changing, the population is moving, infrastructure is developing, and how difficult it is for carriers to stay up-to-date with these changes.

It's important to keep in mind that this astronomical cost says nothing about smaller, still very relevant storms, which are also occurring more frequently due to climate change. In totality, increased weather and climate events have caused the P&C coverage gap to grow into the billions. A study by Ecopia AI (Ecopia) showed that in the US alone, over $43B of hidden flood risk exists.
Regardless of the risk models used, years compared, or geographic scope of analysis, one thing is clear: we are experiencing unprecedented levels of climate risk, and P&C insurance carriers need to adapt quickly and accurately in order to protect both themselves and their customers.
AI-powered mapping enables insurers with rapid climate insights
Geospatial data and mapping are some of the insurance industry's most valuable tools for adapting to increased nat cat risk. Today's top P&C carriers are leveraging geospatial insights to power critical workflows from underwriting to claims management to portfolio analytics and everything in between. But common challenges in data freshness, geospatial accuracy, and property data management can quickly derail any analysis and send carriers back to square one.
To effectively leverage geospatial data, insurers must be confident that their data is up-to-date, locates a property on Earth's surface with precision, and represents the full picture. While most carriers know this, the most common geocoders used for property analytics are only 58% accurate. That means 42% of the time, most P&C insurers are incorrectly modeling nat cat risk.
Parcel centroid-based geocoding (left) vs building-based geocoding (right) in Tahoe City, California; most geocoders available to insurers are only accurate 42% of the time due to reliance on parcel or street-based geocoding. Source: Ecopia AI
Managing portfolio risk while the frequency and intensity of nat cats increase requires accurate and detailed data about properties and their surrounding areas. This includes not only the buildings located on that property, but also nearby land cover, impervious surfaces, and other environmental indicators of hazard risk. Manually digitizing all of these relevant features and keeping that data up-to-date as more and more nat cats and climate events occur is a highly resource-intensive cycle that is leaving many insurers fatigued.
Luckily, recent advancements in artificial intelligence (AI) are driving innovation in insurtech. High-precision feature digitization and classification that used to take weeks or months to do manually can now be performed by AI-based mapping systems in just a fraction of the time. For example, manually digitizing only driveways in Collier County, Florida took GIS teams four years (without any updates to reflect the real-world change), but less than four weeks with AI-powered mapping.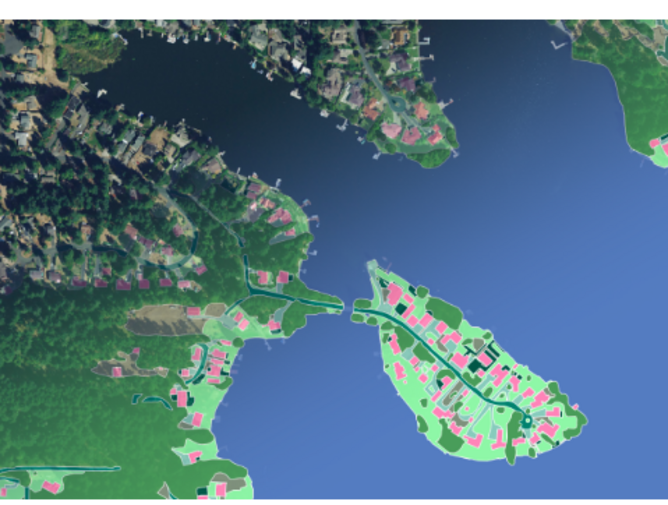 Traditional data creation and updating methods require tedious and time-consuming manual digitization; AI is giving insurers the ability to rapidly digitize geospatial imagery so they can analyze property risk in detail. Source: Ecopia AI
The time and resources saved by using AI directly translate into cost savings and ROI for organizations leveraging data to enhance their climate resilience. After evaluating different options for digitizing buildings and land cover, the City of Jacksonville found that AI-based mapping was 84% cheaper per parcel.
AI is also helping carriers improve the accuracy of their geocoders and property data management. While many common geocoding solutions on the market rely on parcel centroids or street-level coordinates to represent an entire property, the rapid data generation made possible by AI means that geocoding engines can now be developed using up-to-date building footprints. The same study that found traditional geocoding had an average accuracy of 58% also found that AI-based geocoding's accuracy rate was 97%.
AI further uses this building footprint data to derive property relationships, resulting in an ecosystem of unique identifiers that provide insurers with the information they need for master data management. Insurers are increasingly leveraging this building-centric approach to data management across various lines of business. For instance, by switching to an AI-based building-based geocoding engine, Tokio Marine North America Services is able to better estimate and balance the insurance-to-value ratio across its portfolio.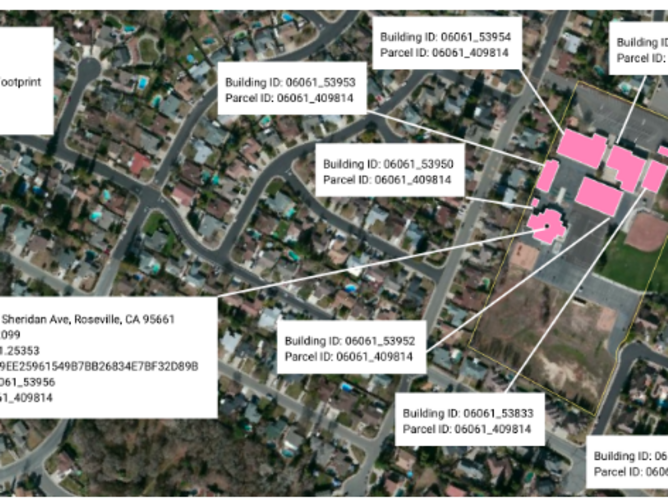 Using a building-based geocoding approach with a detailed unique identifier ecosystem enables insurers to understand a property's entire risk profile, accounting for all buildings located within a parcel and their propensity for hazards. Source: Ecopia AI
With the rise in nat cat and climate events, it's never been more important for insurers to power their businesses with high-quality data they can be confident in. Between the land cover and building-based geocoding data, AI enables insurers to maintain up-to-date, accurate, and comprehensive systems of record for their books of business in a dynamically changing world.

About the author


Briana Brown, Director of Content & Product Marketing at Ecopia AI, is a geographer and writer specializing in geospatial storytelling. As Director of Content & Product Marketing at Ecopia AI, she works closely with organizations to share compelling applications of geospatial data to inspire innovation. Prior to joining Ecopia, Briana worked in various GIS-related roles at SafeGraph, Precisely, and Esri.