German cyber insurtech Baobab raises €3mn from Augmentum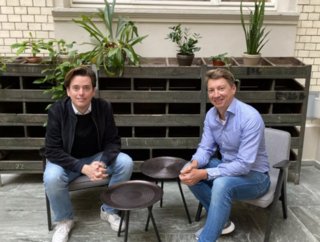 Baobab was founded by Vinzenz Klemm (left) and Anton Toth.
German cyber insurtech Baobab has raised €3mn from fintech fund Augmentum to offer cyber insurance to small and medium-sized enterprises (SMEs)
German cyber insurtech Baobab has secured €3mn in funding from fintech venture capital fund Augmentum.
The investment is Baobab's first in the insurtech space and second in Germany overall, following its earlier backing of Grover, a consumer technology subscription platform.
Baobab couples cyber insurance with cybersecurity tools including constant risk monitoring and incident management in the event of a breach or data loss. According to Augmentum, Baobab employs "a novel approach to underwriting, pricing and risk mitigation", working with leading SME cybersecurity providers to prevent breaches for its insured customers.
The funding comes at an opportune time for Europe's SMEs generally: amid heightened risk stemming from global geopolitical events and supply chain disruptions, small businesses are more exposed to cyber risk than ever. Yet spiralling inflation and rising business costs mean few can afford an uninsured loss. There have already been warnings that SMEs are potentially being priced out of cyber insurance as they prioritise other overheads.
'New risks driving opportunities in insurtech'
Tim Levene, CEO of Augmentum Fintech, says: "We are pleased to lead Baobab's new investment round. We have strong conviction that new risks are driving opportunities in insurtech, and cyber represents a fast growing and underpenetrated market. The team demonstrates strong execution capabilities in developing a solid product, building out a rapidly expanding network of broker partners across Germany and have secured backing from a leading tier-1 capacity provider in Zurich. We look forward to working with Vincenz Klemm and the entire Baobab team as they build out this new European category leader in cyber insurance for the underserved SME market."

Vincenz Klemm, CEO of Baobab, adds: "When Augmentum approached us we weren't fundraising. We were impressed, however, by their deep knowledge of the market. Their team had engaged with all relevant players including the incumbents and showed a deep understanding of the dynamics in cyber insurance globally. Additionally, their network and the experience of their senior team across market cycles and geographies deeply impressed us. This is why we have decided to pursue a fundraise with Augmentum at this time and are very much looking forward to the partnership."

Baobab is not the only cyber insurtech enjoying success at the moment. Yesterday, we reported that North American cyber insurer BOXX Insurance has raised nearly US$15mn in Series B funding – including backing from Zurich itself.