Five steps to help companies prevent cyber attacks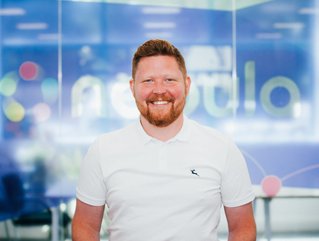 Chris Pottrell founder and MD of Nebula, talks cyber protection and the steps companies can take to protect their businesses
There's no doubt that the cybersecurity threat landscape is constantly evolving. Day by day, newer threat variants are emerging, as hackers and the technologies they use become more sophisticated and targeted. This is especially pertinent for the financial world, as the rapid digitalisation of transactions and services continues to see a rise in global cyber-attacks.
A perhaps unlikely consequence of the global pandemic is that it accelerated the inevitable digital transformation of the financial sector. For years, having a financial advisor, bank manager, or the like might have involved endless paperwork and attending lots of face-to-face meetings. The coronavirus changed all this. Without the traditional touch points afforded by the physical setting it pushed financial services providers to place innovation goals into high gear and use the impetus of shutdowns to deliver more choice, greater efficiencies and a better customer journey – all on a remote basis.
But digitalisation also brings with it risks to the financial ecosystem. Inherently, the increasing use of digital services and widespread reliance on technology, together with the growing interconnectivity between third-party products and services, are increasing the sector's vulnerability to cyberattacks. Financial experts, in fact, single out cyberattacks as the number one risk for global finance.
As such, more than ever, cybersecurity must be a top priority for insurtechs and fintechs. If the technology isn't implemented correct, the reality is the fintech marvel is everything that a bad actor needs to steal critical and highly sensitive data . That includes legally protected information about customers, including personal details, passwords and transaction details, as well as insider company information (balance sheets, supplier lists).
Fortunately, there are some basic cyber defences that can help to protect any fintech model:
1: Establish a culture of cybersecurity

On a day-to-day basis, employees, by their behaviour, are typically your greatest source of vulnerability. One of the biggest reasons for this is that they may be unaware of what they should and shouldn't be doing.
As a result, it's vital that you take a proactive, ongoing approach to educating your entire workforce about cyber security threats and countermeasures. This should include regular cybersecurity training sessions. Your employees should understand how published information about your systems and operation can reveal potential vulnerabilities.
This should be supported with specific rules for email, internet browsing, social networks and mobile devices based on a shared understanding of the underlying security risk. Secure configuration should be used as part of this to minimise the information that digital devices disclose, and ensure they cannot be probed for any vulnerabilities.
2: Follow all the usual cybersecurity best practices

That means applying network perimeter defences to block out any insecure or unnecessary websites and services, along with malware protection to block malicious emails and prevent malware being downloaded from websites. Also, enforcing a strong password policy is one of the most effective ways of preventing brute force hacking attempts. You could also consider enforcing multi-factor authentication for every authorised user, and institute least-privilege security. Nobody needs full access to everything, and not every system should be able to access every other system. This means if a user account becomes compromised (such as through phishing) or a computer system is hacked (such as by exploiting a zero-day vulnerability), you can help contain the damage.
3. Ensure breaches can be managed effectively

Now that you have the basics in place, you should be well placed to successfully exploit and mitigate known vulnerabilities with just a few controls. This means applying patches and fixes to operating systems, applications and drivers to prevent attacks which exploit software bugs. It should also entail introducing additional malware protection on the internal network at key points of vulnerability. This sounds simplistic, but failure to conduct these types of updates in a timely fashion is a leading cause of breaches.
4. Monitor and analyse anomalies and attack patterns

Log everything - every transaction, every privileged login to the fintech platform, every failed password attempt. In most cases, this can be critical to not just detecting and addressing a breach before it escalates into something bigger, but pre-empting similar points of entry or system constraints. Obviously, this can entail a lot of data so use machine-learning tools to monitor events and correlate these logs – but appoint someone responsible for receiving, reading, and following up on it.
5. Do not get complacent

If these measures are consistently in place, the good news is that the majority of standard cyber attacks are likely to be unsuccessful. However, that is not to say there is room for complacency – should your adversary have bespoke capabilities then they still may be able to find a way into your systems. With this in mind, it's imperative to maintain a good understanding of what constitutes 'normal' activity on your network (see point 4) and ensure a rapid response to even the slightest anomalies. As part of this, conduct pen tests regularly and thoroughly; not only do systems become less secure if not maintained properly but attackers become more sophisticated. If you haven't pen tested recently, or used a white-hat firm to assess your defences, the reality is you won't know what you don't know.
Ultimately, fintech cyberattacks impact more than just money, they can breach compliance standards, damage reputation and erode trust with customers. By establishing basic cyber defences and paying due diligence to their continued maintenance, you can help to protect your fintech firm and ensure its not just another number on the growing list of cyber victims.
Abut the author: Chris Pottrell is the managing director and founder of Nebula, a leading IT firm specialising in providing IT support, cyber security and cloud migration services to a range of SME business sectors throughout the UK. Headquartered in Bristol, with operations in Bath and Gloucester, Nebula employs nine people and has a nationwide presence.