Insurtech FloodFlash hits US$15mn in Series A funding round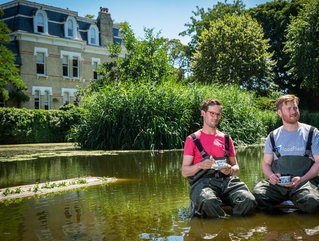 Ian Bartholomew and Adam Rimmer, co-founders of FloodFlash
The capital will be used to drive parametric insurtech FloodFlash's international expansion strategy and help close the flood insurance protection gap
The UK parametric insurtech FloodFlash has raised US$15mn in its latest funding round. The investment drive will be used to drive the catastrophic flood claims insurance company's international expansion strategy.
London-based FloodFlash was launched in 2019 and combines computer models, cloud software, and internet-of-things sensors into flood cover. FloodFlash is also a registered cover holder at Lloyd's of London and is authorised and regulated by the UK Financial Conduct Authority (FCA).
New investor interest in insurtech FloodFlash
According to reports, the investment was raised in just 48 hours of the Series A round opening to investors and was led by Chicago-based Buoyant Ventures with San Francisco-based fund Munich Re Ventures also featuring as an investor.
Other investors included Sony Financial Ventures/Global Brain (Tokyo), MS&AD Ventures (San Francisco), and PropTech1 (Berlin). All the new investors took part in the round alongside existing investors Pentech, Local Globe, and Insurtech Gateway.
FloodFlash investment growth for climatic events insurance
News of the funding drive success follows on from FloodFlash's announcement last year that it formed a strategic alliance with the reinsurer Munich Re. FloodFlash plans to use the investment and capacity to fuel international expansion and begin tackling the $58bn flood protection gap. The insurtech's target markets include the US, Germany, Australia, and Japan.
FloodFlash establishes a robust market positioning
Data shows that FloodFlash has established a strong marketplace reputation for combatting extreme weather losses. The insurtech uses state-of-the-art computer models, cloud software, and connected technology to provide flood cover to those currently unable to get cover from traditional insurance companies. Users select the amount of cover and payout for their policy and when flooding reaches the depth selected, the FloodFlash pays out claims, typically within 48 hours.
Weather patterns and climatic flood insurance risk
According to information released by the National Centres for Environmental Information, inland flooding had resulted in more than $151bn worth of damage in the US over the past 40 years. However, despite the commonality of flood risks in only an estimated 5-15% of homeowners, and less than 5% of SMEs invest in flood insurance.
Speaking about the latest funding round investment drive, FloodFlash CEO Adam Rimmer, said, "This investment is an endorsement of our parametric cover. The group of investors for the round couldn't be better tailored to supporting our efforts in solving the issues around underinsurance in the face of climate change"