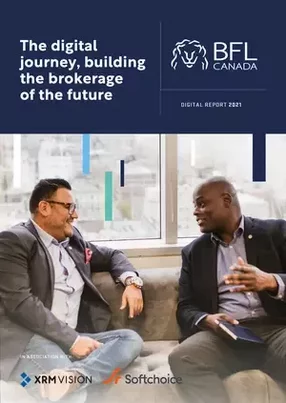 BFL CANADA: Building the brokerage of the future
Christopher O'Sullivan, CIO at BFL CANADA, tells us about embarking on a digital journey to better serve their customers now and in the future
Since it was founded in 1987, BFL CANADA has grown to become one of Canada's largest privately held risk management, insurance brokerage, and benefits consulting firms. 
Operating across the country, it has 22 offices and just over 1,000 employees, serving insurance brokerage, risk management, and employee benefits consulting across a number of industries, particularly real estate, professional services, construction, transportation,
and public services. 
As a result of the company's growth, BFL is in the midst of a digital transformation, to keep complexity to a minimum, ensure the organisation is future-proof, and continue to deliver outstanding customer outcomes. It will also benefit BFL's insurance partners. "Insurers in Canada are on their own digital journeys," O'Sullivan says. "They're looking for seamless end-to-end journeys for customers, so we need to be prepared to be a part of that. And in many cases, we're looking to drive that with our strategic insurance partners."
BFL's digital strategy has three key parts. First is building a new cloud-based data platform, which will be rolled out later this year. "We want to ensure that we have something that's scalable, that has modern technology and that's going to allow us to evolve, as data practices also evolve," O'Sullivan says. "It will give us the ability to aggregate and leverage all of our data, which can be challenging today." 
Currently, data provides insights into what is happening within the business, but the new platform will enable them to gain insights from outside the business and the broader ecosystem. "It will also allow us to exchange data more efficiently with our partners, and leverage that data more effectively in terms of driving automation and personalising our products and services for our customers. Also, if we give our team easy-to-consume insights and data, it helps them demonstrate expertise, which goes
a long way in terms of building relationships and winning for our customers," he adds. 
The second part of the digital transformation involves rebuilding the digital stack. "We serve many different industries, with clients from small and medium enterprises to very large, complex commercial businesses," O'Sullivan explains. "We've found that, in more transactional segments, there is a lot of customer demand for self service. Customers want to be able to quote and bind policies themselves. From our perspective, we want to ensure that we can meet that need because it is critical to delivering great customer outcomes." 
Having used online platforms for these segments for the last five years, they'll be consolidating learnings and best practices into a new single platform. "Our goal is to be able to respond to customer demand much more quickly. The new platform that we're building will allow our business teams to launch new offerings in days, not months.
It gives us agility and efficiencies internally and it also allows us to be responsive to the marketplace, which benefits our customers and our partners."
The third part of their digital journey is transforming the broker management system. "We need to make a shift in how we use our broker management system, to align with best practices of a digital business," he says. 
"Today, our broker management system is a monolith, hosting the vast majority of our capabilities and processing. We will be re-architecting so that we can tap into new and emerging best-of-breed solutions. The broker management system will serve as the core, and we'll start to clean up by moving supporting functions to external systems. This will be enabled by a robust integration architecture that will allow us to scale while reducing complexity."
In addition to these areas, they intend to make efficiencies in the back office, looking at systems supporting finance, HR, facilities, and procurement. "The business has been effective in these areas, so it's a bit of a preemptive strike against complexity," O'Sullivan says. "In many of these areas there's a lot that's done by spreadsheets. This is acceptable today but it will inhibit our ability to scale tomorrow.
"We are looking at all of those systems, the information flow and the processes tied to them. As we rearchitect and implement new systems to replace these, we will look to tap into the tribal knowledge that exists." 
He adds that BFL is fortunate as the team members that build the spreadsheets still work there, which makes it easier. "That allows us to essentially codify what's in their heads," he says, "but do it more efficiently, through systems that are automated. It's going to be a long tail journey to transform what's been there for years, but we're leveraging the knowledge and expertise we still have in house to make it more efficient going forward."
In terms of the technology they've deployed, XRM Vision are is a key partner in terms of building the online platforms and digital stack. "We ran an RFP and XRM Vision came out head and shoulders above everyone else. They have deep insurance knowledge and they're a Microsoft Gold Partner. They bring a lot to the table and
they challenge our thinking." 
Another partner is Softchoice, who they called on to help them roll out Microsoft Teams across the company. "A lot of people think of Teams as a video conference tool, but we see it as a true collaboration platform. Softchoice brought a lot of expertise to enable change management across 1,000 employees. For us, it wasn't a matter of just turning on the technology. It's about a change in the way people work, and they had a lot of expertise around how to do that on the scale of BFL's size."
They use Microsoft extensively, for workplace technology, collaboration tools, and the cloud through Azure. "So much of our roadmap has Microsoft stamped on it. We invest a lot of time in building a really strong relationship with them, and they really help us with expertise, with products and access to their partners, which really helps move the needle for us." 
Once their digital journey is complete they hope to achieve great customer outcomes, better relationships with partners, and great experiences for employees. "Talent is really important. Our view is that if we can have robust technology that is helping us to win for our customers, it will ultimately help us attract great talent. Talent plus great technology, I think, is a formula for success." 
O'Sullivan is enthusiastic about his colleagues. "I've met so many amazing people since I've been here. The President, CEO and Founder, Barry F. Lorenzetti, who is still the driving force behind the business, has built an amazing culture that's rooted in entrepreneurial spirit. Although we're privately held, the company is managed and owned by
its employees, which helps drive us." 
"We've also built great relationships in the industry and with our customers — it's one of those virtuous cycles where the more we win for our customers, the stronger our relationships become, and that leads to more wins and stronger relationships, leading to more growth."