Top 10 insurtech companies in the US by total funding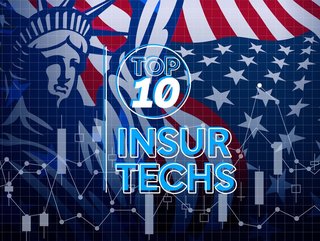 There are many insurtechs based in the US – but who has raised the most money?
These are the top 10 insurtechs based in the US, ranked in order of the total amount of fundraising they've brought in to date
As the technology has evolved to enable it, the insurtech sector has seen a massive boom in the last 10 years. There is now no shortage of insurtech unicorns – companies worth at least US$1bn in valuation. Indeed, a tenth of all fintechs globally to have achieved unicorn status are reported to be insurtechs.
The US is home to a large number of insurtechs, split between Silicon Valley on the West Coast and New York on the East Coast. Here's our list of the Top 10 US insurtechs, which we've ranked based on total funding raised to date.
Amount raised to date: US$410.2mn
Kin Insurance is a Chicago-based insurtech that claims to offer "simple, personalised, affordable home insurance" to US customers. Founded in 2016, it has already built up a workforce of more than 450 people as it attempts to reimagine home insurance for a rapidly changing world. This includes the effect of freak weather, one of the main challenges faced by US property insurers; Kin's technology allows it to provide affordable pricing without compromising coverage, even in areas most impacted by climate change. Last month, it raised another $15mn in a Series D extension that brings the total amount raised as part of that round to $109mn, and the total overall to more than $400mn.
Amount raised to date: $481mn
New York-based insurtech firm Lemonade has fast become a leader in the industry – both domestically and globally – since its founding in 2015. Initially launching a renters' insurance product in 2016 for the US market, Lemonade has since expanded its reach with entries across Europe, including Germany in 2019, the Netherlands in 2020 and the UK in 2022. A Public Benefit Corporation, Lemonade's AI-built products have been developed with a focus on social impact. The company operates a Giveback programme, donating excess premiums to non-profit organisations chosen by its customers.
Amount raised to date: $506mn
The platform provider for property managers and single-family rental homes, Steady Technologies has generated significant market capital through insurance products that are designed to reduce potential risks associated with owners' ancillary revenue streams. After securing a $500mn facility to continue scaling its business nationally in 2022, Steady has been able to fuel its Rent Advance product, which provides owners of rental property with up to 12 months of upfront income. The insurtech says this product eliminates the risk of resident nonpayments.
Amount raised to date: $621mn
Pie Insurance specialises in workers' compensation for small businesses, partnering with regional and national insurance entities to provide cover for their clients. In September 2022, Pie reported it had raised $315mn in Series D funding from new investors Centerbridge Partners and Allianz X, on top of additional funding from existing backers Gallatin Point Capital, Greycroft and Acrew Capital. Its US presence was further expanded in December 2022 when it partnered with Ford Credit to offer Ford Pro customers commercial vehicle insurance. These gains helped the insurtech secure a financial strength rating of A- from AM Best in February 2023.
Amount raised to date: $679mn
Another of Silicon Valley's high-flying insurtechs, Doma uses machine intelligence to streamline the real estate experience, making transaction closing instant. Doma says this reduces associated costs for homeowners, lenders and real estate agencies. The company has raised $679.6mn in funding since its inception, with the latest generated in July 2021 from a Post-IPO Equity round. The insurtech acquired North American Title Company at the start of 2019 and is currently funded by 22 investors; Hedosophia and Lennar Ventures have provided Doma with its most recent source of capital.
Amount raised to date: $719mn
Silicon Valley's Collective Health provides health insurance to self-insured employers through a cloud-based benefits platform, allowing companies to administer employee benefits plans and optimise investments. The company has seen significant traction in the employer-sponsored insurance market since its founding in 2013, and now boasts the likes of Zendesk and eBay amongst its clientele. Collective Health reached unicorn status in 2021 after it secured $280mn in Series F funding, taking its valuation to $1.5bn. In November 2022, Collective Health announced it had surpassed 100 ecosystem partners and processed over 23mn claims since its inception.
Amount raised to date: $827.5mn
Operating in 34 US states, Root Insurance has been growing in the car insurance market since its founding in 2015. Powered entirely by its mobile app, the insurtech incentivises customers through completing certain in-app tasks. Root generated its most significant growth after it raised $350mn in Series E funding in August 2019, followed by an additional $300mn in a Post-IPO Debt round at the start of 2022. The company has been committed to embedded insurance since its inception, making up 41% of its new writing for Q4 2022 via online used car retailer Carvana. The insurtech's founder and CEO, Alex Timm, featured in the January 2023 edition of InsurTech Digital magazine, where he discussed the company's rapid rise after a difficult start in its formative years.
Amount raised to date: $881mn
Next Insurance was founded in 2015 by Nissim Tapiro, Alon Huri and Guy Goldstein. Goldstein, a former fighter pilot in the Israeli Air Force, continues to lead the business to this day and has seen Next Insurance through various funding rounds amounting to nearly $900mn. The US-based company focuses exclusively on small business insurance, providing a broad range of coverage to contractors, independent retailers, personal trainers and other small business owners. It boasts over 420,000 customers and, in 2021, partnered with Amazon for Business to offer insurance for vendors selling on the platform. At its Series E funding round in April 2021, it raised $250mn and achieved a valuation of $4bn.
Amount raised to date: $1.3bn
Founded in 2015 and based in Palo Alto, California, Hippo Insurance is pioneering a proactive approach to property and homeowners' insurance that seeks to prevent leaks, fires, breaks and other catastrophic events before they occur, thus reducing the need for claims to arise. It was founded by Assaf Wand, who knows a thing or two about building successful businesses; before Hippo, he was an investor with Intel Capital and also led a designer homewares brand called Sabi that reached $10mn in sales before being acquired. Today, Hippo Insurance is one of the largest property insurers in the US, covering more than 200,000 homes in 39 states from coast to coast.
Amount raised to date: $1.6bn
Oscar Health was founded in 2012 by Mario Schlosser, Joshua Kushner and Kevin Nazemi. Since the outset, its aim has been to make health insurance more accessible and affordable for American consumers. From its base in New York City, it uses technology as its primary weapon in the fight to bring good healthcare to the masses, describing its mission in terms like 'refactoring' the market – a phrase borrowed from the world of software engineering. Under Schlosser's leadership, the company has raised $1.6bn in funding so far and in March 2021 went public on the New York Stock Exchange in an IPO that valued the business in excess of $7bn. Last month, Oscar Health replaced Schlosser as CEO with healthcare veteran and former Aetna boss Mark Bertolini, with Schlosser himself transitioning to the role of President of Technology.